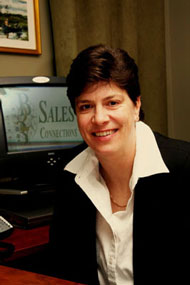 Susan is a a founding partner of B2B Sales Connections. She brings more than 30 years of direct sales, management and executive level business to business experience. Her accomplishments include consecutively being the top sales rep in Canada, managing the top sales branch, and achieving outstanding sales growth in a national channel sales organization.
Before co-founding B2B Sales Connections, Susan gained marketing, sales and general management experience in the business technology and office equipment industries. She also has experience in the group insurance industry, as well as owning and operating her own businesses.
Some of Susan's career highlights include:
Directed two regional sales operations simultaneously to outstanding sales growth
Increased a regional sales operation to 39% average annual sales growth over a 5 year period
Achieved 374% of profit targets as Branch Manager
Managed the top branch in Canada, with consistent year over year record sales results
Operation selected as a finalist in the Better Business Bureau Torch Awards for Marketplace Ethics
Sales Representative of the Year for two consecutive years before being promoted to sales management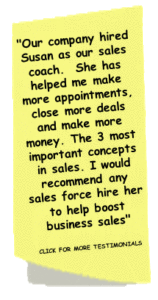 Susan has received her Bachelor of Commerce (Honours) degree from the Faculty of Management at the University of Manitoba, where she was named to the Dean's Honour List in three separate years. She is also a Certified Internal ISO Auditor.
She has written the books Action Plan For Sales Success, Action Plan For Sales Management Success and Daily Motivational Quotes, co-authored the book Quick Sales Tips, created numerous automated sales tools, and as the B2B Sales Coach, she writes and edits the company's newsletters. Her work has been published in several locations numerous times and has sold on five separate continents.
For many years, Susan has volunteered on numerous executive committees of professional associations, sport leagues and clubs in which she's been a member. She has volunteered on the organizing committee for Canadian Cancer Society CIBC Run For The Cure for several years, including 6 years as the Volunteer Co-Run Director, herself being a breast cancer survivor after being diagnosed in 2013. She was also an annual participant in the Canadian Cancer Society Relay for Life for several years. She also coaches Bantam Girls Basketball with the Nepean Blue Devils Basketball Association.
She volunteered on the Leadership Executive of the Sales Professionals of Ottawa (SPO) for 5 years, and is one of the association's Past Presidents. She has also been a guest lecturer at the School of Business at Algonquin College as well as a guest speaker for SPO.
A competitive athlete from an early age, she is a Kinsmen Award Winner for Good Citizenship, Sportsmanship, and Hard Work. Now an avid golfer, she has been voted Most Sportsmanlike Player and All Star Skip in separate curling leagues. She is currently a volunteer coach with a bantam girls team in the Nepean Blue Devils Basketball Association.
By creating and teaching various sales training courses, coupled with the innovative creation and implementation of useful sales tools, Susan has excelled and been recognized in all areas of her personal and professional endeavors.
What people are saying about Susan:
"Our company hired Susan in mid 2011 as our sales coach. I have been working with her since then. She has helped me make more appointments, close more deals and make more money. The 3 most important concepts in sales. I would recommend any sales force hire her to help boost business sales and build trust and integrity with your clients."
"Susan really knows the selling world. She's honest, articulate, bright, giving, highly competent, personable and a top professional. Welcome her. It's the right thing to do."
"Susan …understands the sales process intimately and is able to create a management process around it that drives sales people to accomplish their goals."
"Susan knows her stuff. She brings many years of great sales experience and success to anyone who wished to improve their skills in sales. She is very personable, and is not afraid to tell it like it is. I would recommend anyone (and I have) to Susan, her website, her books if you want to become a better sales person."