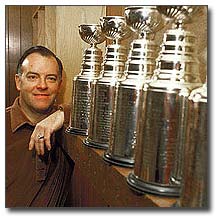 Selling has been compared to sports for years. So much so, that sales people have even often been called the elite athletes of the business world. The reason for the comparison probably stems from the fact that both professions are performance based, and that the incomes earned in each are in direct proportion to the ability to consistently over achieve.
So why is it in sales, we don't do everything that professional athletes do to maximize our performance? If they use advice from expert coaches, to help them earn incredible incomes, regardless of their level of experience, shouldn't we?
Continuing the analogy, as sales manager, you are not a player on your team; you are the coach of your team! You must teach what needs to be taught, you must lead where they need to be led, and you must motivate so they follow you there. The sales force may drive your company's revenue, but it is your job as sales manager to drive the sales force!
The best sales managers know their primary responsibility is to develop their people, not themselves. Would Scotty Bowman, the record holder for the most wins as a coach in the National Hockey League, strap on a pair of skates with 30 seconds left in the third period of the Stanley Cup Final? Of course not, and neither should you. Did you know that due to injury, Bowman never played professional hockey himself? Interesting, don't you think?
Always ask yourself, if you were to leave the organization tomorrow, could your sales team carry on and still produce at the sales level they are now? If the answer is no, then you must start to develop your coaching skills. If you can't even remember when you were able to take your last vacation, then you should start your training today. For detailed information on how to be a better sales coach, including the management tools you will need to get started immediately, check out my book, Action Plan For Sales Management Success. As one of my associates said, "Susan …understands the sales process intimately and is able to create a management process around it that drives sales people to accomplish their goals."
Everyone, regardless of their experience or skill level, can benefit from having access to expert guidance. As sales manager, that guidance comes in the form of coaching, and it should come from you. Remember as the Chinese Proverb says, "Give a man a fish and you feed him for a day. Teach a man to fish and you feed him for a lifetime." More motivational quotes here.
Aim Higher!
Susan A. Enns, B2B Sales Coach & Author,
www.b2bsalesconnections.com, www.linkedin.com/in/susanenns, or www.twitter.com/SusanEnns
For more free sales management tips, check out our Sales Management Resource Centre!  Or join my on my webinar, Your 90 Day Sales Rep Success Plan – How to create an On Boarding Process that puts your sales reps on the right road to success!