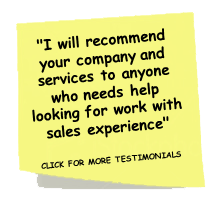 B2B Sales Connections is the premier niche job board for B2B sales professionals in Canada.
Our only focus is business to business sales!
This is a free job board focusing only on the business to business sales marketplace.
Are you a sales manager recruiting your sales team?
Are you an experienced business to business sales professional looking to advance your career with a better sales job?
Are you an independent sales agent looking for new products to represent?
Are you a new graduate looking to start your sales career?
B2B Sales Connections makes your job search and recruiting process faster, easier and less expensive than ever before!
Sales job search and recruiting tips delivered right to your inbox!