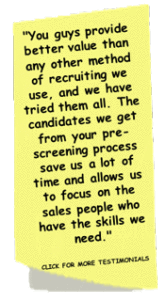 B2B Sales Connections is a niche job board dedicated only to business to business sales professionals. If you are looking to hire sales representatives, independent sales agents, sales managers or seasoned top sales executives, we can help!
B2B Sales Connections truly is the cost effective sales recruiting alternative to over crowded job boards, time consuming in house prescreening, and expensive recruiting agencies.
Think of us as your outsourced VP of Sales Recruiting, with a long track record of finding top sales professionals for our clients.
Sales management and recruiting tips delivered right to your inbox!