Downloadable Self Study eCourses
For Sales & Sales Management
Are you achieving your sales potential? Studies show that 25 percent of sales representatives produce 90 to 95 percent of all sales. Clearly, most people who have chosen sales as their career are not selling up to their potential and therefore not making the incomes they could.
Why is this the case? It's not that the job can't be done because 25 percent are doing it, and doing it well. It's because the other 75 percent either are not in the right sales position or they truly don't know how to sell. If you knew and did what the top 25 percent do, then you would be selling more!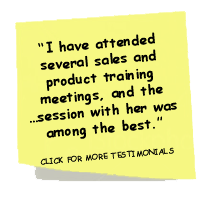 Most sales people have not had access to effective, affordable sales training, until now! Using our unique action based sales training techniques, B2B Sales Connections has created proven, turn key programs that will improve your skills so that you can achieve your true sales potential, guaranteed.

Do you want to learn the sales techniques used by top producing sales professionals? We can help!
Available Training Programs
Do You Want To Make More Money In Sales?
Do you want to make money in sales? First ask yourself if you are in the right sales position. If you are not, make a career change. If you are, then you need to learn to sell the same way, with the same sales tools, that the top performers do.
You are going to have to invest in yourself and you must do so where you can guarantee yourself a good return. Even if you have been selling for a long time, you can always upgrade your skills. Remember, there is a difference between 10 years experience and 1 year's bad experience repeated 10 times!
Do you want to make money in sales? It's up to you!
Download A Free White Paper On How To Choose A Sales Training Program
To downloadload your self study program, visit our eStore today!
Studies show that the average person forgets 90 percent of what they hear in a lecture based training program. Since most sales training programs consist of seminars given around a board room table, no wonder most sales people are not living up to their potential!
Using our training programs, sales tool generators, and exercise workbooks, you will not only learn the theory, you will also put it into pratice on a daily basis to achieve greater sales success. After all isn't practice how a professional athlete improves?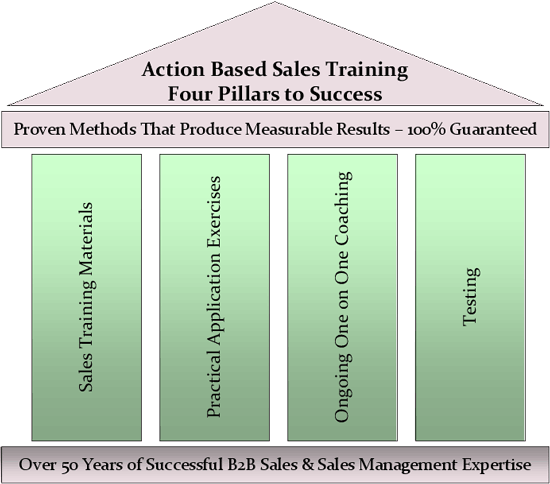 Our Action Plan for Success sales training courses are quite unique in their format and application as they use what we call action based sales training: a unique approach with four specific elements that must be combined in order to be successful:
Sales Training Materials – The materials are based on over 50 years of successful B2B sales and sales management expertise. They have been used over and over to achieve outstanding sales results with many different sales professionals. Quite simply, we use proven methods that produce measurable results.
Practical Application Exercises – We don't just talk about sales theory, we actually give you useable sales tools that will make your life easier and help you to sell more. You will actually put the provided tools into practice each week of the 4 week program. The teaching techniques used are very similar to those used by the best sports coaches.
Ongoing One on One coaching – You will have ongoing access to our qualified trainers for support via email and Skype. We want you to succeed, so if you have a question, we're here to help.
Testing – This ensures that the material has been understood and put into practice. Also, successful completion of the exams earns you the designation of being B2B Sales Connections Accredited.
Because of the successes of our trainees in the past, we are confident we can help you achieve your sales potential. Using our unique sales tool generators and workbooks, you will not only learn the theory, you will also put it into practice on a daily basis to achieve positive, measurable results.
Please feel free to browse our Sales Resource Centre to access free sales resources that will show you samples of our sales training. Whatever program you choose, we wish you nothing but success in your future.
Sales training programs must be more than just time out of the field, they must actually produce results!
Download A Free White Paper On How To Choose A Sales Training Program
To downloadload your self study program, visit our eStore today!
B2B Sales Connections Accreditation
After your training is completed, you can submit your Accreditation Exams to B2B Sales Connections for review. Upon successful completion, you will have earned the right to be designated B2B Sales Connections Accredited.
Not only will achieve greater sales success by completing this course, you will also have earned a designation that proves you truly are a trained B2B sales professional with the right skills for you and your employer to succeed.
All sales professionals who are B2B Sales Connections Accredited and are using Career Connections in their career search, will be highlited as such when their profiles are submitted to potential employers.
Are Self Study Programs Really Effective?
Although self study programs are often the least expensive method of training, many people are hesitant to try it. Unfortunately, they believe these programs are not as effective as face to face training when in reality, the opposite is true.
The Personalized System of Instruction (PSI) developed by Fred Keller is a program of self study modules where the participants learn at their own pace, and then are tested after each module. After extensively studying its methods, Pascarella and Terenzini concluded that "PSI is effective in fostering improved subject matter mastery over more conventional instructional approach."
Not only can our action based self study programs be the least expensive way to train, they can also be the most effective way. In fact, we guarantee it!
B2B Sales Connections guarantees that if you or a member of your sales team completes one of our "Action Plan" series sales training courses as instructed, performance will improve. If you are still not satisfied with the results after a course is completed and the accreditation exams are submitted to us, simply contact us within 90 days of your purchase and we will provide you with a full refund. No questions asked.
Download A Free White Paper On How To Choose A Sales Training Program
To downloadload your self study program, visit our eStore today!
Want to share valuable sales articles, tools and tips with your associates? Do you know someone who needs to hire a B2B sales professional or someone who wants to advance their sales career? Refer a friend to B2B Sales Connections!