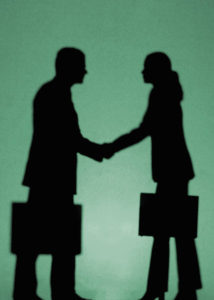 It's been said that prospects must feel they can trust you before they'll buy from you. But what does "trust" really mean? It's simple. Prospects need to know that you and your company will do exactly what you tell them you'll do, when you say you'll do it. Every time you fulfill a commitment, you build trust. Every time you break a commitment, you lose trust. In fact, you do more damage than if you'd never made the promise in the first place.
So how can you start to build credibility with your website when a prospect doesn't know you outside of your search engine result listing? Check out my article on how to build trust and credibility with your website in the Thought Leader Series as published on the Podblox blog.
Remember, as Sheri Levit once said, "Trust is earned when everyone's interests are considered and respected. Communication is the key to do this." More motivational quotes here.
Aim Higher!
Susan A. Enns, B2B Sales Coach & Author,
B2B Sales Connections
"I love the B2B Sales Connections website. It is an amazing resource for anyone involved in B2B selling."