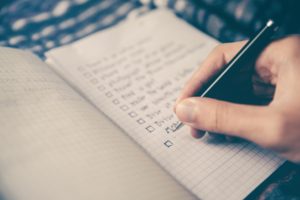 If you are in the middle of an active job search, it doesn't take long to lose track of what companies you have applied to and how.  Lost career opportunities could result because you may miss an important follow up required for you to win the position.
To prevent this, you should keep a log of where and when you've applied to each job.  It doesn't have to be complicated, a simple spreadsheet will suffice.  If you would like a template, you can download the Job Search Tracking Worksheet for free from the B2B Sales Connections Download Centre.
Once start tracking the companies and positions you have applied to, you will be able to more easily tell when and how you should follow up.
When you are looking to make a career change, be determined and don't settle for less than you want. As Virgil once said, "Persistent work triumphs."  More motivational quotes here.
For more sales career advice that will actually help you find your dream sales job, join us for our job search coaching. We have helped many sales professionals through this process. In fact, a recent testimonial said "With (his) coaching and his help improving my resume I am getting on average 3-4 calls a day. It's insane. I know which jobs to definitely pass up but there are some "interesting" opportunities coming my way."
Aim Higher!
Susan A. Enns, The B2B Sales Coach B2B Sales Connections
www.b2bsalesconnections.com, www.linkedin.com/in/susanenns, or www.twitter.com/SusanEnns
Download our free White Paper "How To Write An Effective B2B Sales Resume" from the B2B Sales Connections Download Centre.
B2B Sales Connections can make the recruiting and job search process faster and easier than ever before. For more information on what makes our job board services unique, visit Career Connections at www.b2bsalesconnections.com/career.php.
To view our current b2b sales job postings, please visit www.b2bsalesconnections.com/job_postings.php