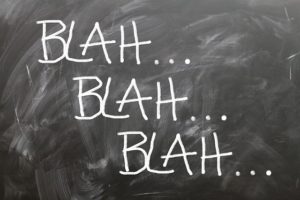 I'm sure we have all run into the situation where the person you just met at a networking event goes on and on and on about themselves or their business with no interest in a real "conversation". They think they have made a great connection because you are listening intently to their story. But in the real world, you have zoned out and are just too polite to walk away. It can be a difficult situation to resolve unless you have a networking escape plan.
The technique uses four simple steps, interrupt, express interest, show gratitude and provide a redirection.
If the person does not provide a natural break in the conversation for you to speak (and many don't) then you must interrupt them.  Next, take a moment to express interest in something they said.  Then thank them for their insight. Finally, remind them that you both need to circulate so you can meet more people to take advantage of short time frame for the networking meeting.
Example: 4 Steps to Politely Break Away From a Discussion
"Fred, you are a wealth of knowledge on the pitfalls of real estate. I appreciate the time you have spent telling me about local market conditions. We only have a short time here today and we should both take advantage of the opportunity to meet with other people before the event is over.  I'm sure we will see each other again at upcoming events."
The other option is to say, "excuse me, I must find the bathroom" and disappear.
If you are looking for more ideas on how to improve your selling process check the B2B Sales resource centre. If you need help generating more leads and converting more of your prospects into customers consider investing in a sales coach to help you reach your goals.
AIM HIGHER!
Robert J. Weese,
B2B Sales Connections
Are you looking for a speaker at your next sales conference? Robert  is a former broadcaster, award-winning professional speaker, author, and sales coach. He has lead high-performance sales teams to record growth over his career. For more information please contact him directly by email. Robert@b2bsalesconnections.com
"I love the B2B Sales Connections website. It is an amazing resource for anyone involved in B2B selling."