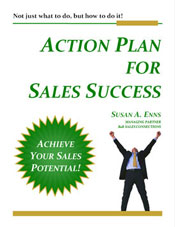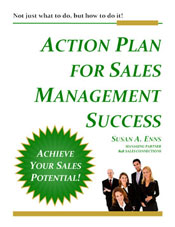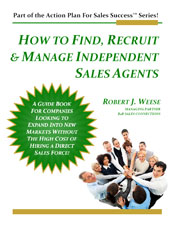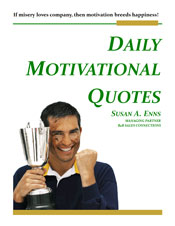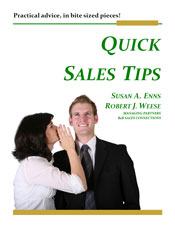 Tweets from https://twitter.com/SusanEnns/lists/b2b-sales-connections
FREE SALES & SALES MANAGEMENT RESOURCES
FREE DOWNLOAD CENTRE
COACHING SERVICES
B2B Sales Connections Free Newsletters

Are you achieving your sales potential? It would be surprising if you answered yes! Even the best sales organizations and their top producers will tell you that there is always room for improvement.

Do you want to sell more? Then subscribe to the B2B Sales Connections free newsletters!

Current Newsletter Issue - How to Successfully Sell in the Summer!

Free Sales & Sales Management eBooks

Sales & Sales Management Newsletter Past Issues

How to Successfully Sell in the Summer!

To Hit Your Summer Sales Targets, You Need to Start Now!

Stop Losing Your Customer's Trust!

What Is My Best Quick Sales Tip?

B2B Sales Connections Free Newsletter Archives




When you subscribe you can be rest assured, B2B Sales Connections has a strict policy for our email lists. We never sell our mailing list to outside parties, and you can unsubscribe at any time.

For complying to email best practices and ethics, B2B Sales Connections is thrilled to have been chosen a Constant Contact All Star!

Aim Higher - Sales Coaching Newsletter

Aim Higher is a sales coaching newsletter that shares business to business sales best practices. The format is designed to be a quick read, yet is packed with valuable information.

Highlights include a main sales training session, as well as a Sales Quote and Sales Tip of the Month. The regular features, Ask The B2B Sales Coach; and Recommended Reading are also very popular.

Time spent reading Aim Higher is time well invested!

Aim Higher Past Issues

Marketing Success Does Not Guarantee Sales Success!

How to Make This Your Best Sales Year Yet!

The Best Sale Activities for December

Are You Prepared to Make Quota This Summer?

When You Get Rid of Distractions, Great Things Happen!

Does Your Prospect Really Want The Cheapest Price?

How to Turn Sales Resolutions into Realities

Are You Prepared for Life's Curve Balls?

Win or Lose, You Can Learn From Every Sale!!

25 Great Telephone Sales Tips!

A Successful Summer Means You Need To Prospect Now!

Stop Encouraging Your Prospects To Ask For A Discount!

An Effective Communication Device Really Does Exist!

Is Your Written Sales Proposal Too Long?

For Consistent Sales Results, You Have to Plan Your Work and Work Your Plan!

The Year End Sales Push Is On!

5 ½ Tips on Creating a Successful Tele-prospecting Opening Statement

How to Keep A Positive Attitude

How to Successfully Sell in The Summer

Are You Feeling Overwhelmed & Burnt Out At Work?

Recommended Free Sales Tools and Information to Help You Sell More

If Professional Athletes Use Coaches, So Should Professional Sales People!

How Sales People Should Organize Their Time

Start The New Year Off Right With These Free Tools From B2B Sales Connections!

The Best Sales Activities For December!

Do You Have The "End Of The Selling Year" Sense Of Urgency?

How To Shorten Your Customer's Buying Cycle

"Because we have always done it that way!"

What Is Your Next Step To Close The Sale?

You Can Still Sell In The Summer If You Plan For It

Why Your Prospect Can't Return Your Voice Mail

How Not To Sell Against The Competition

When Sales Reps Let Technolgy Get In The Way Of The Sale!

Procrastination - A True Enemy To Your Sales Success!

Your Attitude Heightens Your Sales Success!

The Year End Sales Push Is On!

Just Making More Calls Doesn't Guarantee Sales Success!

Should You Leave A Voice Mail?

Is It Time To Close The File On That Stalled Prospect?

I Don't Have Time To Prospect!

Why Will Your Prospect Buy Today?

Stop Losing Your Customer's Trust!

You Still Need Communication Skills

Start The Year With A Sales K.I.S.S.!

It's A Great Time To Invest In Yourself!

There Are Only 30 Selling Days Left

Do You Set The Right Expectations?

Don't Be Your Own Worst Enemy!

The Right Place At The Right Time!

Always Have To Lower Your Price?

Tracking Your Sales Activities?

Control Your Sale's Time Frame




Management Matters - Sales Management Coaching Newsletter

Management Matters is a sales management training and coaching newsletter that shares business to business sales management best practices. The format is designed to be a quick read so you can get back to managing your sales team.

Highlights include a main sales management training session, as well as Quick Sales Management and Recruiting Tips.

Management Matters Past Issues

Can the Sales Manager Afford to Take a Vacation? / In Sales Recruiting, If You Snooze, You Lose!

A Packed Prospect Now Means Your Sales Team Will Have a Successful Summer! / Should You Hire Your Next Sales Rep From Your Competition?

Using a CRM System Should Not Be A Sales Rep's Choice / Are You Looking to Hire 100% Commission Sales Reps?

Are You Prepared for Life's Curve Balls?

When Management Does More Harm Than Good

Better the Coach, Better the Sales Manager!

A Packed Prospect Now Means Your Sales Team Will Have A Successful Summer!

Turn Product Training Into Sales Training!

Do You Have A 90 Day Sales Rep Success Plan?

Coaching - A Critical Element in Sales Performance and Retention

Can the Sales Manager Afford to Take a Vacation This Holiday Season?

A Balanced Score Card Approach to Hiring Sales People

Don't Waste Your Team's Selling Time!

When Should You Start Recruiting To Replace Your Non Performing Sales Rep?

Sales People Need A New Definition of Failure - A Management Perspective

Joint Field Work Should Be Show How, Not Do For

A Happy Sales Force Is A More Productive Sales Force!

A Different Way To Deliver Product Knowledge Training to Sales Reps!

Is It Time To Fire That Nonproducing Sales Rep? / Free Sales Tools

How Should Sales Managers Distribute B2B Sales Territories?

Can Eliminating Sales Quotas Increase Profits

Sales Management Is No Place For Your Ego!

Don't Forget About Your Top Sales Performers!

A Better Way To Publish Sales Contest Results

Can The Sales Manager Afford A Vacation?

Are You A Postive Sales Manager?

Does Your Sales Team Have Enough Prospects To Carry Them Through The Summer?

How To Promote A Sales Person to Sales Mangement Successfully

The Sales Manager Reports to The Sales Reps, Not The VP!

Everyone Always Late For Your Sales Meetings?

Do You Know Your Minimum Selling Price?

Your Sales Team's Attitude Heightens Their Altitude

Productive Joint Field Work: A Five Step Process

The Selling Year Is Almost Over

Is Your Team Always Late For Sales Meetings

What You Must Do Immediately When An Employee Leaves Your Company!

Stop Memorizing Technical Specs!

Need Ideas For Sales Meetings?

Does Your Team Hate Sales Reports?




Channel Chat - Independent Sales Agent Recruiting & Management Newsletter

Channel Chat a newsletter for companies that are looking for htips, strategies and information on how to increase sales using independent sales agents (ISA). In North American there are over one hundred thousand sales agents covering a wide variety of industries, territories and products. This is a growing field and can provide a huge competitive advantage to your business. Knowing how to connect, recruit, train and manage sales agents is the key to success in this expanding sales channel.

Channel Chat Sample Issues

Considering Independent Sales Agents? Do it Right from the Start!

Career Connections - Sales Job Search Newsletter

Career Connections is a newsletter that focuses on the business to business(b2b)sales career, with an emphasis on how to find the right sales jobs. The format is designed to be a quick read, yet is packed with valuable information to help you with your b2b sales job search. Regular Sales Career Tips are highlighted.

Career Connections Past Issues

Sales Recruiters Want to Know Your Accomplishments, Not Your Job Descriptions!

Do Recruiters Use a Keyword Search When Reviewing Resumes?

Your Job Search Should Not Take A Summer Vacation!

Take Charge of Your Own Job Search!

Should You Include Volunteer Experience On Your Resume?

What Are the 10 Most Common Resume Mistakes?

Are Non-Compete Clauses in Employment Contracts Valid?

101 Common Job Interview Questions and How To Answer Them!

Year End Job Search, Don't Stop Now!

Common Sense Email Tips for Job Searchers

Should You Send a Thank You Note After a Job Interview?

Make Sure to Continue Your Job Search In The Summer!

What Kind of Job Are You Looking For?

To Improve Your Job Search, Tap Into Your Networks!

When A Potential Employer Contacts You, Respond!

What Social Networks Do Recruiters Use Most?

Follow The Job Ad Instructions

Is It Time To Start Looking For A New Job?

Are You Prepared For Your Job Interview?

You Need To Include The Right Keywords In Your Resume!

What Is Your Perfect Sales Job?

Don't Wait For The Perfect Sales Job To Find You, Go Out & Get It!

What Every Sales Candidate Should Ask In An Interview

What Are The Average Salaries For Sales Jobs?

Your Cover Letter Should Be Gender Neutral

Are You Accessing The Hidden Job Market?

What Are Your Salary Expectations?

What Are The The Best Sales Jobs?

Where To Find The Best Sales Jobs

On Your Resume, Lead With Your Best!

Address Your Resume's Cover Letter To The Right Person!

The Right File Format For Your Resume!

On Your Resume, Lead With Your Best!

Spelling Mistakes On Your Resume Can Hurt You!

Looking For A Job? Apply As Directed!

Can The Recruiter Contact You?




B2B Sales Connections newsletters are written and edited by the company's Managing Partners, Susan A. Enns and Robert J. Weese, a team that has an outstanding record of success in over 60 years of combined business to business sales experience.

They understand the day to day challenges and the rewarding opportunities of business to business sales. They understand them because they have lived them! More importantly they have a knowledge on how to identify and achieve them!

Both Susan and Robert use proven methods that yield measurable results! They look forward to helping you achieve your sales potential!




Want to share valuable sales articles, tools and tips with your associates? Do you know someone who needs to hire a B2B sales professional or someone who wants to advance their sales career? Refer a friend to B2B Sales Connections!