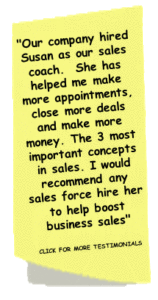 Do you want to make more money in sales? Do you need help with a sales situation? Are you a sales manager wondering how to improve your team's results? Are you looking to recruit independent sales agents?
Do you need some sales career advice? Are you looking to make a career change but you are unsure in which direction you should head? Do you need some honest feedback on your resume?
The Coaching Services from B2B Sales Connections has helped many achieve their sales potential. For some, it was helping them make the right career connections. For others, it was improving their sales or sales management skills. And for others, it was showing them some simple techniques to maximize their marketing efforts online.
Do you want to achieve your sales potential? Then ask your B2B Sales Coach!
Do you need a expert sales coach who is affordable and accessible? Then you need to subscribe to the coaching services from B2B Sales Connections! We specialize in helping b2b sales professionals achieve their sales potential, either by connecting them to the right career choices, or the right skill set.
Want more information? Not sure if sales coaching is right for you? Want to chat with your coach to see how we can help? Schedule a free coaching strategy session with your B2B Sales Coach here. The meeting is free and there is no obligation to purchase.
Or if your prefer, contact us by email here.
B2B Sales Connections – Helping You Achieve Your Sales Potential!