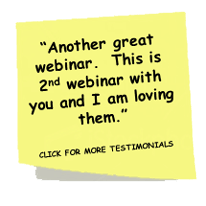 It used to be that face to face training was the only way to get things done. Now, the best way that saves time, money, travel, and the planet is to meet over the web!
Is it easy? Absolutely! If you can open a webpage, you can join a B2B Sales Connections Webinar.
Looking for a customized training webinar for your sales team? Schedule a free strategy session to discuss your training needs here. The meeting is free and there is no obligation to purchase.
Or if your prefer, contact us by email here.
B2B Sales Connections – Helping You Achieve Your Sales Potential!