How to Build Trust Into Your Sales Process So You Can Sell More Faster!
Upcoming Live Webinar & Event Schedule
Other Webinar Video Downloads
Duration: 53 Minutes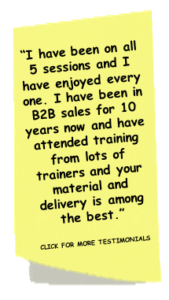 What You Will Learn: Simply put, no sale can happen unless your prospect trusts you. Yet many sales people continue to lose sales because they never made the conscious effort in the sales process to build enough trust so that the prospect is comfortable enough to buy. Even worse, they have no idea the real reason they lost the sale was because of their trust-breaking preventable mistakes they made long before the price of their product was even discussed.
Download this webinar and join Susan A. Enns, B2B sales coach and author of Action Plan For Sales Success where she discusses quick and easy ideas that will help you build trust and credibility with your prospects so that you close more business faster.
| | | |
| --- | --- | --- |
| How to Build Trust Into Your Sales Process | Price: $10.00 | Add To Cart |
You will leave this session with action items that will impact your sales results immediately including:
Why trust is essential for you to make the sale and why building it will make you more successful
How do prospects actually define trust
How to build trust instantly with prospects, even if they have never met you before.
Trust building sales tools you can create quickly and easily to use with all your prospects
Common ways most sales people are losing trust and don't even know it.
"Another great webinar. This is my 2nd webinar with you and I am loving them." 
| | | |
| --- | --- | --- |
| How to Build Trust Into Your Sales Process | Price: $10.00 | Add To Cart |
B2B Sales Connections – Helping You Achieve Your Sales Potential!