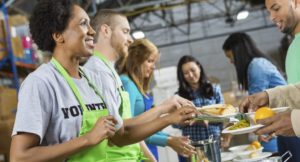 Should you include your volunteer experience on your resume? Absolutely! Since a recent LinkedIn Poll showed that 41% of hiring managers consider volunteer experience equally valuable as paid work, the question really becomes why not!
If you are just entering the workforce and you keep hearing, "No one will hire me without experience and I can't get experience if no one will hire me?", then volunteering could be the key to getting your career started on the right path. For more information on how to get started, check out No experience – It won't stop you from getting a job if you know this job hunting secret by Robert J. Weese.
If you are an experienced job searcher and you are not sure what volunteering experience you should include on your resume and what you should leave out, check out Should you include volunteer experience on your resume? by Katherine Reynolds Lewis.
To download our free white paper How To Write An Effective B2B Sales Resume or our Free Job Search Tracking Worksheet, visit the B2B Sales Connections Download Centre.
Aim Higher!
Susan A. Enns, The B2B Sales Coach, B2B Sales Connections
www.b2bsalesconnections.com, www.linkedin.com/in/susanenns, or www.twitter.com/SusanEnns