Career Connections - Start a B2B Sales Career
Are you a recent graduate and not sure where you should start your job search? Are you concerned about the outlook for your job? You should consider a career in sales!
Even if you do not have any direct business to business sales experience, we encourage you to review and apply to the jobs advertised on the B2B Sales Connections Job Board. Many employers are looking for candidates who want to start a career in B2B sales and we would be happy to receive your resume.
Sales job search tips delivered right to your inbox!
Resume Submission & Registration Process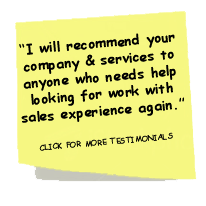 Submitting your resume to one of our posted job opportunities listed on the B2B Sales Connections Job Board is quick, easy and absolutely free. Each posting has an email address where you should submit your resume. Simply click on the link to submit!

If you are not sure on a good resume format to use, download our free white paper on how to write an effective B2B sales resume. While you're there, why not also download our free Job Search Tracking Worksheet.
Think your resume is perfect? Check out the most common resume mistakes we see every day in our blog post 7 Things You Should Not Do On A Resume.
If you would like an expert to help you write your resume, subscribe to our Coaching Services. In fact, a recent testimonial said "With (his) coaching and his help improving my resume I am getting on average 3-4 calls a day. It's insane. I know which jobs to definitely pass up but there are some "interesting" opportunities coming my way."
Not sure if coaching can help you find your dream sales job? Schedule a free Career Tune Up Strategy Session with your B2B Sales Coach here.
B2B Sales Connections is simply a better way to find the right sales job to advance your career!
Sales job search tips delivered right to your inbox!
Why Should I Consider A Career In Sales?
Sales can be a very rewarding career, in more than ways than one. Not only are qualified sales people always in demand in the marketplace, regardless of economic conditions, but they earn an above average income as well.
Sales professionals are also more upwardly mobile, with 85% of today's CEO's, Presidents and senior executives coming from a background in sales and marketing.
Personal satisfaction, growth, freedom from the office, unlimited income potential, financial stability and the ability to be an entrepreneur without the usual financial risks associated with self employement.
Clearly there are compelling reasons why now is the right time to seriously look at sales as your new career path.
Sales job search tips delivered right to your inbox!
Can I Be A Successful Sales Person?
Did you know that studies show that 1 in 4 people have a aptitude for sales? You might that one!
Would you like to be your own boss? Do you want to take control of your life? Does the idea of financial freedom excite you? Do you have the self dicipline to work on your own to achieve your goals? If you answered yes to any of these questions, then you are surely a good candidate.
It's not difficult as you may think to find out if you might be the right fit for a sales career. You can take a sales aptitude survey and assess your personality and sales skills, as well as determine what type of sales is right for you so that you start your career off on the right track.
It's important to note, not all sales people earn an above average income and not all sales people have a corner office. Why? Sometimes it's because they are just not in the right sales job! It's not enough to just be in sales, you have to be in a sales job that is right for you!
Don't wait! Your future starts today!
Sales Skills Are Learned, Not Inherited!
Successful sales people are not born with the skills they need to succeed. Succesful sales people are trained for their trade just like every other profession. Once you know you have the right aptitude, then it is simply a matter of completing the right training.
Action Plan For Sales Success by B2B Sales Connections will give you all the skills and tools you need to start and succeed in your business to business sales career. Also, once complete, and you will have earned the right to be called B2B Sales Connections Accredited.
Not only will achieve greater sales success by completing this course, you will also have earned a designation that proves you truly are a trained B2B sales professional with the right skills for you and your employer to succeed.
Unlock your true potential. Your future starts right now!
Click here for more information or to order Action Plan For Sales Success!
Video Sales Career & Job Search Tips
To play a video, click on the arrow in the middle of the video. To select another video in the training series, click on the arrow buttons on each side of the player, or you can click on the listing button, the second icon in the bottom left corner of the player.
Visit our Blog, A Sales Compass for more job search tips.
Sales job search tips delivered right to your inbox!
Do you know someone who wants to advance their sales career? Refer a friend to B2B Sales Connections!