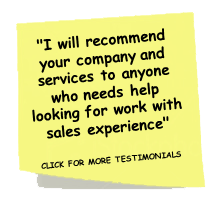 If you are interested in becoming part of our Canadian based independent sales agent network network please complete your Independent Sales Agent Survey here.
You will be asked for your contact information along with a brief listing of the products you represent, the markets and industries you target, your geographic territory and what type of products you would like to add to your line.
This is a free service to qualifying independent sales agents.
To qualify, you must be an independent sales agent who is free to sell any product or service that fits your business model and you can be in any industry.
Commission only representative or independent salaried representatives qualify, as well as Multi-representative sales agencies looking to expand their product lines qualify. Multi-level marketing opportunities will not be accepted.
If you have questions or comments, please contact us. B2B Sales Connections looks forward to you making your career connections!
Sales job search tips delivered right to your inbox!