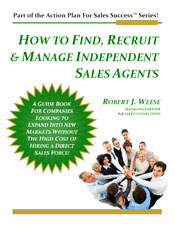 Are you struggling to grow your sales? Are you trying to decide whether the time is right to hire a direct sales force? Would you like to approach new markets and territories using a proven business model that will reduce your go-to-market costs?
Then check out How to Find, Recruit & Manage Independent Sales Agents by Robert J. Weese. It's is a proven, turnkey system that will become the foundation of your sales agent program.
As one reader wrote, Bob has written a comprehensive guide which offers the reader a complete review of how to select, manage and motivate independent reps. He provides proven exercises, forms, and templates to equip interested sales managers with the necessary tools to run their own successful sales agent program. This book is essential reading for anyone interested in the independent sales rep business model."
If you are looking for a comprehensive guidebook that can help you find, train and manage independent sales agents , also called manufacturers' representatives then this book is for you.
B2B Sales Connections has also created the Sales Agent Recruiting Tool Kit and the Sales Agent Sales Management Tool Kit. These tools include all of this information in affordable package, and are available for you to download immediately from our eStore!