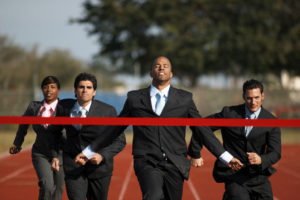 Here is another question and answer from my interview on business.com , Expert Advice on Putting Together an A+ Sales Team.
Business.com: Many successful sports coaches take the approach of "Send me the good athletes. I'll teach them to play (basketball, softball, soccer)." Can this approach work when putting together a great sales team?
Susan: Absolutely! Contrary to popular belief, great sales people and sales managers are not born, they are made. They are the result of hard work, passion, motivation to excellence and most importantly, training. Sales is a learned skill, not a natural gift. If you start with the right people who have the aptitude and personality for sales, you can certainly train them to be successful.
Aim Higher!
Susan A. Enns, B2B Sales Coach and Author of Action Plan For Sales Success and Action Plan For Sales Management Success
B2B Sales Connections
Free eBook for a Limited Time Only! – Super-Charge Your Sales Team – A Sales Manager's Guide to Effective Coaching
Want to know more sales and recruiting techniques used by today's top producing sales management professionals? Check out our sales and sales management training webinar videos. They are available for instant download and viewing! Watch them as often as you like, whenever you find it convenient, and pause them anywhere to learn at your pace!