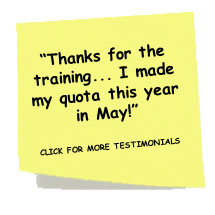 Everyone, regardless of their experience or skill level, can benefit from having access to expert guidance. Professional athletes use coaches to ensure they continue to perform at their peak and amateurs use coaches to help them breakthrough.
Access to qualified expertise helps in business as well. In fact, according to an independent business study conducted by CIBC, companies who use coaching or mentoring have a growth rate that is 76% faster than companies who do not rely on outside help.
Do you need help with a sales situation? Do you need some sales career advice? Are you a sales manager wondering how to improve your team's sales results? Are you a business owner wondering how to create a sales compensation plan? Are you looking to break into new markets using independent sales agents? Then ask your B2B Sales Coach!
Want more information? Not sure if sales coaching is right for you? Want to chat with your coach to see how we can help? Schedule a free coaching strategy session with your B2B Sales Coach here. The meeting is free and there is no obligation to purchase.
During our phone or Skype meeting, we will discuss your challenges and goals for the year and some strategies you can immediately implement to grow your business and your income!
Or if your prefer, contact us by email here.
B2B Sales Connections – Helping You Achieve Your Sales Potential!