The Brand of You – 7 Steps To Growing Sales by Leveraging Your Personal Brand
Upcoming Live Webinar & Event Schedule
Other Webinar Video Downloads
Duration: 49 Minutes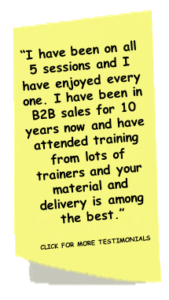 What You Will Learn: We all know the old adage, "people do business with people they like". Learn the secrets of how to use your personal brand to outshine the competition and turn more prospects in customers.
Today, entrepreneurs and small business owners must learn how to effectively brand and promote their business on a shoe-string budget. In this webinar Robert J. Weese, B2B sales coach and author, walks you through 7 key steps you need to take in order to help you turn more prospects into paying customers. If you are having problems converting prospects into customers, this webinar will help!
Using the Action Plan for Sales Success™ Program our clients who follow the system have seen sales growth of 20% to 30% in less than 90 days.
Download this webinar where Robert explores how your personal brand can help you overcome the competition and increase the number of prospects that convert to customers.
You will leave this session with a simple but effective 7 Step Action Plan that turns prospects into customers:
Understanding that people buy you first, then your ideas, products or services
Importance of dominating your competitive space
4 key steps to building trust with your prospects
How to Educate – Not sell
The single most powerful closing technique that gets your prospects to sign on the dotted line
"We increased our company sales by over 35% this year and have Bob's training program to thank for the focus and success"
| | | |
| --- | --- | --- |
| The Brand of You – 7 Steps to Grow Sales by Leveraging Your Personal Brand | Price: $10.00 | |
View Shopping Cart Here
B2B Sales Connections – Helping You Achieve Your Sales Potential!