You Can't Sell Unless You Get In The Door! – How to prospect the executive suites using today's technologies.
Upcoming Live Webinar & Event Schedule
Other Webinar Video Downloads
Duration: 33 Minutes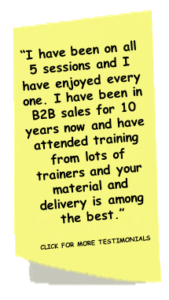 What You Will Learn: Even the most talented sales professional cannot sell unless he starts the sales process. Telephone, email, social media; what works best to get you into the door?
Download this webinar and join Susan A. Enns, author of Action Plan For Sales Success to discuss discuss the best practices of today's prospecting tools so you can maximize your results!
You will leave this session with action items that will impact your sales results immediately including:
How to ensure you are only working with real prospects
What approach works best with gatekeepers
How to use your social media contacts to generate sales leads
How to ask for referrals so that you actually receive some
What email template works to get you appointments with key decision makers
How to plan a diversified prospecting process that actually gets you in the door
"Your sessions are too good for any salesperson to miss."
| | | |
| --- | --- | --- |
| You Can't Sell Unless You Get In The Door – How to Prospect The Executive Suites | Price: $10.00 | |
View Shopping Cart Here
B2B Sales Connections – Helping You Achieve Your Sales Potential!