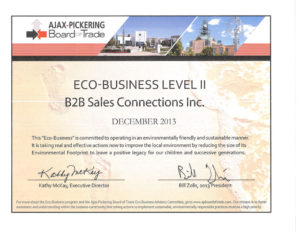 Robert J. Weese of B2B Sales Connections recently accepted an award from the Mayor of the Town of Ajax in recognition for our generous support of the Towns business initiatives for 2012. This is the second year B2B Sales Connections has received the award.
Robert was also recently nominated for the 2012 Education Award for his volunteer work within the community "enhancing learning opportunities for Ajax residents through education support programs and training". This award is presented by the Town of Ajax Recreation & Culture Department.
Susan A. Enns of B2B Sales Connections was recently nominated for the Erin McBride Leadership Award – New Run Director for her volunteer work for the Canadian Breast Cancer Foundation CIBC Run for the Cure. This award is presented by the CBCF's Ontario Region.