Did you know that business people who read at least 7 business books a year earn over 2.3 times more than people who read only one book per year? Think you don't have time? If you spend just 10 minutes a day reading, that adds up to over 60 hours a year!
Remember, investing in yourself is always a safe bet!
Books Available from B2B Sales Connections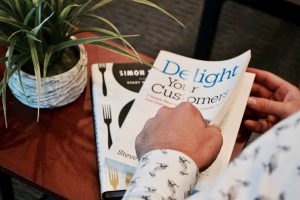 Other Sales and Sales Management Books We Recommend
Listed below are some excellent books recommended and reviewed by the B2B Sales Connections sales coaches or our website visitors. If you like to send us a recommendation, contact us!
| wdt_ID | Category | Book Title | Author | Book Review |
| --- | --- | --- | --- | --- |
| 1 | Sales Management | Action Plan For Sales Management Success – Not just what to do, but how to do it! | Susan A. Enns | "Susan knows her stuff. She brings many years of great sales experience and success to anyone who wished to improve their skills in sales. She is very personable, and is not afraid to tell it like it is. I would recommend anyone (and I have) to Susan, her website, her books if you want to become a better sales person." - Fred B. |
| 2 | Sales | Action Plan For Sales Success - Not just what to do, but how to do it! | Susan A. Enns | "I am working through your "Action Plan For Sales Success" ... and I'd like to say THANKS for a great hands on approach, with working documents that make it easy to turn learning into ACTION." - Don M. |
| 3 | Motivational | Daily Motivational Quotes - If Misery Loves Company, Then Motivation Breeds Happiness | Susan A. Enns | "It is really amazing for what you are doing in helping others stay positive and overcome their challenges, whatsoever small or big they may be" - Parmod R. |
| 4 | Sales Management | How To Find, Recruit & Manage Independent Sales Agents - A Guide Book for Companies | Robert J. Weese | "Bob has written a comprehensive guide which offers the reader a complete review of how to select, manage and motivate independent reps. He provides proven exercises, forms, and templates to equip interested sales managers with the necessary tools to run their own successful sales agent program. This book is essential reading for anyone interested in the independent sales rep business model." - Allan R. |
| 5 | Sales | Quick Sales Tips - Practical advice, in bite sized pieces! | Susan A. Enns & Robert J. Weese | "... if sales folks would follow your "sales tip of the month" every day...their life would change" - Brad E. |
| 6 | Sales | High-performance selling: Advice, tactics, and tools : th | Terry Beck | This book is an easy read with short, to the point chapters. Very practical tips and ideas in the "Try This" section of most chapters that will improve your sales skills. |
| 7 | Sales | One Minute Sales Person, The: The Quickest Way to Sell Pe | Spencer Johnson & Larry Wilson | Part of the "One Minute" series, this is a quick and easy read which has very valuable lessons for sales professionals. Everyone in sales, at every level of the organization should memorize and internalize "The Wonderful Paradox " so that they can practice it with their internal and external customers! |
| 8 | Business | In Search of Excellence: Lessons from America's Best-Run | Thomas J. Peters & Robert H. Waterman | Recommended by LinkedIn Visitor, Nigel Taylor. - Based on a study of forty-three of America's best-run companies from a diverse array of business sectors, this book describes the eight basic principles of management that made these organizations successful. "...it contains some really great basic concepts all of which have stood the test of time." |
| 9 | Business | Good To Great: Why Some Companies Make the Leap...And Oth | Jim Collins | Using scientific study methods, this book compares similar companies in the same industries and discusses the results of why one company flourishes, and the other doesn't. The discussion comparing the leadership qualities of the management teams between the comparison companies alone makes this worth the read! |
| 10 | Sales Management | How to Hire and Develop Your Next Top Performer: The Five | Herb Greenberg, Harold Weinstein & Patrick Sweene | This book was first recommended on a LinkedIn group. After reading it, we must totally agree with the recommendation! The five qualities needed to be successful in sales hits the nail squarely on the head, and the discussion on the need to job match is excellent. A must read by every sales manager and executive who wants to build a winning team! |
| | Category | Book Title | Author | Book Review |
If you are an author and would like to review your work, contact us. We would love to hear from you!