Are you looking for free online sales training resources to help you achieve your sales potential? Then you have come to the right place!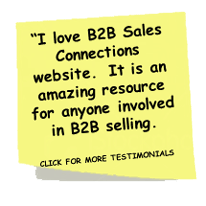 Are you achieving your sales potential? It would be surprising if you answered yes!
Even the best sales organizations and their top producers will tell you that there is always room for improvement.
In fact, studies show 25% of sales reps produce 90 to 95% of all sales. Clearly, most sales people are not selling up to their potential, and not making the incomes they could or producing the revenues they should. B2B Sales Connections wants to change that.
We are the online sales training website with free sales and sales management training resources, a specialized job board & free job search listing services for business to business sales professionals! As one visitor commented, "You have a great website filled with valuable insights on the B2B world."
Below you will find ideas, sales tips and tools to help you and your sales team work smarter and increase your sales. Be sure to check back often as more free sales training resources are being added regularly!
Named "One of "Best Sales Blogs (2023)", "One of the "Top 30 Sales Blogs to Follow in 2021", "One of The 19 Sales Groups You Should Join On LinkedIn" and "One of the Top B2B Blogs on the net", B2B Sales Connections can help you achieve your sales potential.
Follow B2B Sales Connections on Social Media
| wdt_ID | Daily Motivational Quote |
| --- | --- |
| 203 | "Keep on going and the chances are you will stumble on something, perhaps when you are least expecting it. I have never heard of anyone stumbling on something sitting down." - Charles F. Kettering |
Sales Joke of the Day
There was once a young man who, in his youth, professed his desire to become a great writer. When asked to define 'great' he said, "I want to write stuff that the whole world will read, stuff that people will react to on a truly emotional level, stuff that will make them scream, cry, howl in pain and anger!" He now works for Microsoft, writing error messages. Source: AJokeADay.com
Looking for more sales humour? Here are more than 75 of best sales jokes of all time.
More Free Online Sales Training For Salespeople and Their Managers from B2B Sales Connections
Don't we all want to sell more? Sales Knowledge is Sales Power!
Whether you are a B2B sales professional, a manager, or a sales executive, the best way to start increasing your sales success is to connect to the right sales tools and resources.
B2B Sales Connections – Helping You Achieve Your Sales Potential!