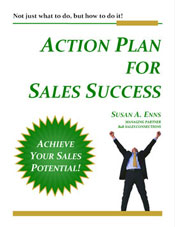 Fact: 25 percent of sales representatives produce 90 to 95 percent of all sales.
Clearly, most people who have chosen sales as their career are not selling up to their potential and therefore not making the incomes they could. Why is this case? It's not that the job can't be done because 25 percent are doing it, and doing it well. It's because the other 75 percent either are not in the right sales position or they truly don't know how to sell.
If all sales people knew and did what the top 25 percent do, then all sales people would be selling more!
Also Available at Amazon, Apple iStore, Kobo, Barnes & Noble, Smashwords and other fine online retailers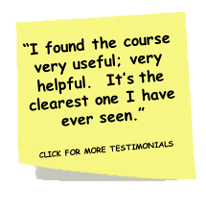 Until now, most sales people have not had access to effective, affordable sales training. Action Plan For Sales Success by Susan A. Enns is a proven, turn key program that will become the foundation of your sales process.
Action Plan For Sales Success will improve your selling skills so that you can achieve your true sales potential.
What You Will Learn
Why Are You In Sales? – Goal Setting & Action Planning

How to determine and track what you have to do each and every sales day to get where you want to go!

It All Starts Here! – Define Your Target Market, Create Your Follow-Up File & Then Prospect!

How to define your real target markets, design your CRM program to track it, and how to create a prospecting approach that opens the door!

Why Do Prospects Buy? – The Fact Find

How to develop questions that create value and differentiate you from the competition!

Selling Your Solution – The Presentation of Offer

How to present your product so that the prospect buys!
Action Plan For Sales Success – Sales Techniques Used By Top Producing Sales Professionals
Testimonials
"I am working through your "Action Plan For Sales Success" … and I'd like to say THANKS for a great hands on approach, with working documents that make it easy to turn learning into ACTION." – Don M., ON
"I think your writing is fantastic!" – Jeb Blount, Salesgravy.com
"I have Susan's sales training book and I highly recommend it. She has produced a step by step process for winning at the sales game – Her many years of personal sales success, plus the many situations she has helped others win at are captured in an easy to read, and follow, discussion along with all the tools you need to get yourself on track and stay there." – Fred B., ON
"I found the course very useful; very helpful. It's the clearest one that I have ever seen."- Roland S., ON
"I love the book." – Kristen E., PA
"A very inspirational, convincing and pro-active approach to sales." – Diane J., ON
"I've never read a book quite like it. It's basically got everything you'd ever need to know to be a sales person and it's all in one place." – Norm M., ON
"My awareness of selling techniques has increased by 50%." – Ravi O., QC
"Susan really knows the selling world. She's honest, articulate, bright, giving, highly competent, personable and a top professional. Welcome her. It's the right thing to do." – Allan S., ON
"Her attention to detail along with her mentoring and coaching in after class support was incredible." – Drew C., OH
Action Plan For Sales Success – Proven Methods That Produce Measurable Results