How to Define Sales Success On Your Own Terms and Then Achieve It!
Upcoming Live Webinar & Event Schedule
Other Webinar Video Downloads
Duration: 48 Minutes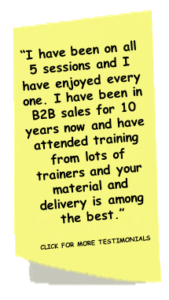 What You Will Learn: Why are you in sales? Why did you become an entrepreneur and start your own business? Regardless of your reasons, your decision means you have chosen to earn a living based on your ability to produce sales.
If you are struggling, if you are not reaching your goals, or if you are not earning the income you want, you have probably asked yourself on more than one occasion, "What do I have to do to make this work?" The answer lies in your numbers.
What is one customer or one sale worth to you and what are the marketing activities required to generate one? How many sales do I need to meet my objectives? Does it take 10 prospecting contacts to make a sale or does it take fifty? It doesn't matter what the numbers are, as long as you know YOUR numbers!
To help you determine your numbers, download this webinar and join Susan A. Enns, author of Action Plan For Sales Success where she discusses how to define sales success on your own terms, and then create an action plan to achieve it.
You will leave this session with action items that will impact your sales results immediately including:
How to set goals and objectives so that your business and personal life are in balance
How to determine what is it you have to do each day to get to where you want to go
Learn the difference between marketing and sales, and why it's so important to know
Use our GOAL SETTING & ACTION PLANNING WORKSHEET to calculate your numbers
How to find time in your busy day to do what's truly important to your success as you have defined it
"Another great webinar. This is 2nd webinar with you and I am loving them." 
| | | |
| --- | --- | --- |
| How to Define Sales Success On Your Own Terms and Then Achieve It!  | Price: $10.00 | |
View Shopping Cart Here
B2B Sales Connections – Helping You Achieve Your Sales Potential!