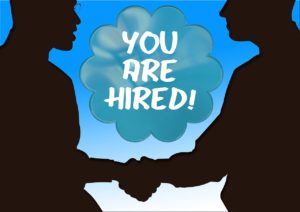 "No one will hire me without experience and I can't get experience if no one will hire me?"
I hear this complaint all the time from recent graduates and students looking for a job. But the solution to the problem is simple.  You need to volunteer! Now this doesn't mean you volunteer once to help out for a few hours, put it on your resume and expect it to do the trick. No, you make a commitment to an organization and you get experience over dozens if not hundreds of hours.
Volunteering helps you in two very important ways. First it shows potential employers you are active in your community and interested in helping others. What company does not want a young person who is engaged? Secondly, it shows them you have initiative and are willing to learn how to work when a paid job is not easy to find. Yes let me repeat that "learn how to work". Volunteering can help you understand what companies are looking for when hiring people. Marks at school may count in some jobs but drive, attitude and the ability to communicate will get you further in the job market.
Imagine if you walked into a company looking for a job and they said "what experience do you have?"
If you were a volunteer helping out at nonprofit association you could build on that background. Well Ms. Interviewer, "I was a volunteer at the food bank for the past 2 years. I have put in over 100 hours part time while I attended school. I learned how to manage a team of students who I supervised. I learned about scheduling coverage as well as the importance of being punctual and looking for solutions to problems that came up on a daily basis."
In my community a high school student needs 30 or 40 volunteer hours as part of their requirements for graduation. I also see many of students waiting until the last minute and then trying to cram in all their hours at the last minute.  Yes, you have done the minimum requirements but employers are not looking for people who do the minimum. Wouldn't it be better for you to finish high school with a few hundred volunteer hours? Better still start volunteering when you are younger and then check out the difference it makes when you start looking for a part time job while you are still in school.
By the way this doesn't just apply to people in school. If you are looking for a job and having trouble finding one because you don't have the right experience then find an organization in your field where you can volunteer and become involved. It will help you, I guarantee it.
If you would like a template to track your entire job search process, you can download the Job Search Tracking Worksheet for free from the B2B Sales Connections Download Centre.  Please visit our Sales Management Resource Centre for more information on how to recruit, train and manage your sales people.
AIM HIGHER!
Robert J. Weese
B2B Sales Connections
Robert is a partner at B2B Sales Connections. He has spent over 30 years working with Canadian and International companies who have been successful growing their business using direct sales teams and alternate sales channels. He specializes in helping small to mid-sized sales organization accelerate their sales growth using proven strategies.