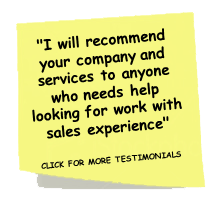 Why would you want to create b2b sales job alerts?
Because maybe you don't have the time to check our sales job board every day. Or maybe you want to be the first to apply to your dream sales job as soon as it is posted.
When you create a b2b sales job alert, you get the latest sales jobs delivered right to your inbox! You will never miss out on the opportunity when your dream sales job gets advertised again.
Create Your Own Personalized B2B Sales Job Alerts, Delivered Right To Your Inbox!
Privacy of personal information is an important principle to B2B Sales Connections. If you subscribe to our job alerts, you can unsubscribe at any time. For more information, please review our Privacy Statement.
Are You Looking to Make A Career Change?
Are you looking to make a career change? For detailed instructions, step by step, on how to find your perfect sales job, (and by perfect, we mean perfect for YOU), check out our eBook, How to Find Your Dream Sales Job – The future is yours to create! How to write a resume to grab the attention of sales recruiters, a gender neutral cover letter template, what you need to include in your LinkedIn profile, how to prepare for a sales interview, what to wear, how to access the hidden job market, how to evaluate a job offer, how to resign from your current job …. IT'S ALL IN THIS BOOK!
FREE DOWNLOAD!
Job Search Tracking Worksheet