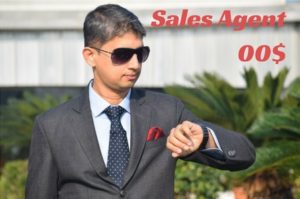 Are you thinking about becoming an independent sales agent?
When you consider all the benefits of becoming an independent sales agent, it's easy to see why more and more sales professionals are considering this as a viable career option.
What is an Independent Sales Agent
Most companies have a direct sales force that works out of their primary location. When it comes time to expand into new territories, however, many companies cannot afford to establish a remote branch operation. In other cases, a business owner may have the 'technical' skills behind the design and development of the product but they do not have the skills, aptitude or knowledge for sales and marketing.
Regardless of the reason business owners often turn to independent sales agents as a method of scaling up their sales force quickly, efficiently and effectively.
How Sales Agent Earn Income
Sales agents generate an income by selling the products for one or more manufacturers or suppliers. In doing so, they earn a commission on the products they sell. There is no base salary, draws or other guaranteed income. You sell you earn! Sales agents usually have a specific geographic territory or possibly vertical market they work in and they are responsible for connecting with the target customers within their territory.
The Manufacturer's Responsbilites
The manufacturer would be responsible for inventory, shipping, billing, installation, maintenance and all the legal ownership of the product. The sales agents' responsibility is to represent and sell the product. The only costs associated with becoming a sales agent are the costs of setting up a home office and your travel expenses.
Why You Should Consider Becoming an Independent Sales Agent
Many people are looking to break free from the commute, the internal politics and challenges of working for someone else. Others have been downsized in the latest round of layoffs.
Many people contemplating their next career move imagine a better life self-employed as an entrepreneur. They imagine a better life self-employed and dream of the freedom that comes with being their own boss.
Being Your Own Boss Can Have Challenges
Unfortunately, being your own boss results in a series of challenges that most people don't think about. First and foremost, you need to consider how long it will take to replace your income. You have to think about the time it will take to maintain the lifestyle you are accustomed to.
Let's face it moving from a steady paycheque to the reality of not receiving a consistent income is difficult. Most entrepreneurs can't survive the financial drought of finding paying customers and building a profitable business.
What Are Your Alternatives?
So, what's the answer? Buying a franchise, starting your own business, becoming a direct marketer? All these options have their benefits and challenges.
There is one option that does not require a financial investment and gives you the freedom to set your own schedule and be your own boss. Become a sales agent for an existing company.
Becoming an independent sales agent (also called manufacturers reps) can be very lucrative if you have the drive and persistence to build your own business. It also protects you from the high startup costs associated with starting your own business or buying a franchise. In fact, many independent sales agents are making six-figure incomes and they represent products and services they believe in.
Classify Yourself as an Independent Contractor
According to most employment laws, an independent sales agent is viewed as an independent contractor. In fact, you must have a written agreement or formal contract with a company that you represent. It should clearly defines the terms and conditions of your status.
If you don't do it the right way you may be classified as an employee. That would trigger tax implications, employment premiums, vacation payouts and a host of other 'legal' employee requirements.
A Low Risk Alternative to Buying A Franchise, Starting Your Own Business or Multi-level Marketing Programs
Most often when someone decides to become their own boss they only consider the two most common ways of getting into business for themselves.
Buy A Franchise
Buying a franchise is very expensive and can drain all your savings and put you into debt. Not only will a franchise cost a lot of money you will be working 60-80 hours weeks while you are trying to build a customer base. Do you want to gamble your retirement savings and be tied down to another job that will be even more challenging than what you just left? Independent studies (not those done by the franchise industry) report the success rate is about 70% for a new franchise.
Start Your Own Business
The second possibility is to forego the franchise model and start your own business. While buying an 'off the shelf' franchise with built in training programs can a better opportunity for success, starting your own business can be even more costly. Most owners have to invest a huge amount of start-up capital in the business before it becomes profitable, not to mention the investment of time and other resources required in getting there.

Don't forget the failure rate of a new business is over 97% within the first three years, plus all the inevitable growing pains, expenses, financial hardships and long hours. That's quite a gamble with your retirement.

MLM (Multi-Level Marketing) or Network Marketing
There has been a huge growth in network marketing companies selling healthcare products, diet products, financial services and fashion accessories to name just a few. Some of the biggest names in this industry are Mark Kay Cosmetics, Avon, Amway, Primerica. There are hundreds of others. The initial investment is usually quite low but this model relies primarily on your ability to get out there and sell the products and build your own distribution channel to feed your business.

A few sales superstars in network marketing make tens of thousands of dollars a month, while most never get the business off the ground once they realize they need to spend all their time recruiting and selling.

Will an MLM opportunity work for you? History says no! According to a report from the Federal Trade Commission (FTC) by Jon M. Taylor, of the Consumer Awareness Institute. almost 99% of people who get involved in MLM's fail.
Becoming an Independent Sales Agents is A Viable Option
There is a fourth option that almost no one either considers or even knows exists. It is is far less expensive than starting your own business or buying a franchise. It can also be profitable quickly and is far less risky than the first three options discussed above.
What is this option? It's the opportunity to become an independent sales agent for an established company. This is also sometimes referred to as an independent sales representative.
Now I am not talking about selling real estate, life insurance, or financial planning. I am referring to products and services that you may use every day that are sold through channels of independent sales agents.
You will find companies in manufacturing, telecom, advertising, business technology and business services that rely on networks of independent sales agents to market and sell their products.
Sales Agents Are The Go To Alternative in Many Industries
Did you know that over 70% of the annual sales are made by sales agents not a direct sales force in many industries surveyed?
Are you looking to be your own boss, run your own business and set your own income? Then becoming an independent sales agent may be just what you are looking for. You can usually find a company that is involved in an industry you either know or would like to become a part of. These companies would most welcome the opportunity if you are the right person.
Independent sales agents come from all types of industries. They include people who are looking to start a new career. Agents are also semi-retired business professionals who want to continue to work on their own terms without risking their financial next egg.
The benefits are numerous. No start-up costs. No inventory. The company provides you training. You have an establish organization taking care of all of the day to day business operations.
Semi-Retired Sales Professionals Needed!
There is a growing movement in small and mid-sized Canadian companies that are searching for ways to connect with recently retired or semi retired business professionals. They are in need of people who can provide knowledge and experience in areas their own management team is lacking.
Many of these companies have built successful organizations. The problem though though is they do not have the skills to continue their growth. They cannot afford the expense of hiring a full time employee who has the expertise they need.
Companies Have Two Major Challenges
Companies who have this problem face two major challenges. The first is to find a method of reaching qualified & interested semi-retired professionals. The reason is because this is outside of the normal career listing services. They don't focus on attracting this growing demographic.
The second challenge is how to structure a position which meets the needs of both the company and the semi-retired individual who is looking to continue working. To make this transition successfully companies need to look beyond the old concept of 'work – life balance'. They need to provide the prospective employee with the freedom and flexibility to create a 'life – work balance'.
Often this can be achieved by determining exactly what you need the person to accomplish. Then, working together you create a flexible schedule which includes specific goals and timelines.
How to Start Your Independent Sales Agency
The sales agent business is growing. There now is a growing movement in small and mid-sized companies in both Canada and the USA. These companies are searching for ways to connect with recently retired or semi-retired business professionals. They are also looking for a different business model.
They are in need of people who can provide knowledge and experience in areas their own management team is lacking. Many of these companies have built successful organizations but do not have the skills needed to continue their growth. They cannot afford the expense of hiring a full-time salesperson that has the expertise they require.
FREE DOWNLOAD!
How to Write an Effective B2B Sales Resume (With Template and Example)
If you'd like more information on how to become an Independent Sales Rep, check out The Independent Sales Rep by William B Cornell. He has over two decades of experience in the field and his book is a 'how to manual' for starting your independent sales rep agency.
Your future awaits.
AIM HIGHER!
Robert J. Weese, B2B Sales Coach, Professional Speaker, and Author of How To Find, Recruit & Manage Independent Sales Agents
Looking for more ideas to generate more leads, reduce the buying cycle and close more business? Then download my free eBook, Attract New B2B Customers Fast and Effectively Using Outbound Lead Generation from the B2B Sales Connections Free Download Centre.