Could you be more successful if you could just find more customers?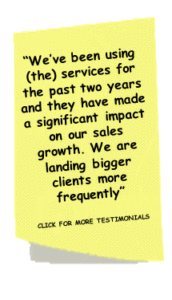 Do you not have the time, energy or skill set to focus on new lead generation?
Is social media not generating the qualified leads you need to meet your sales goals and you don't have the budget to gamble on any more unproven marketing campaigns that require huge initial investments and commitments?
Are you looking to connect with qualified prospects without of the cost of hiring your own sales staff or the time it takes to find qualified independent sales agents?
Do you want to spend less time on making calls and more time on making sales?
If you answered yes to any these questions, then you need an outsourced lead generation program from B2B Sales Connections.
An Effective Lead Generation Program Needs the Right Approach, Delivered the Right Way, at the Right Time
Let's face it. Times have changed. And if you want to be successful, you need to change too.
Whether it's automating your LinkedIn networking, creating an email drip marketing campaign, making your introductory phone calls, or a combination of the above, B2B Sales Connections develops the most effective lead generation program, customized for you to grow your business.
How do we know it's the most effective lead generation program? Because we give you the tracking ability and the analytics to monitor each prospect throughout your entire sales pipeline. And it's all completely automated!
More importantly, this ensures you are working with each sales lead at the exact right time; that being when they are most likely to buy!
The Bottom Line – You can't sell unless you get in the door first!
Albert Einstein once said: "The definition of insanity is doing the same thing over and over and expecting a different result." If you keep trying to sell the same way, can you really expect better results?

You simply can't repeat the same OLD SCHOOL sales process over and over again and expect a miraculously different outcome. You have to learn to sell differently. Get in front of people differently. Make the first contact differently. And you have to do it right.
Using our 2-4-6 LEAD GENERATION PROGRAM™ and our PASSTA SYSTEM™ salespeople learn and apply the key lead generation and sales strategies to find the prospects' PAIN. If you know what really stands between the customer and his happy place, you can guide them through their buying process. With you as their travel partner through the process, closing the sale becomes the logical next step! You will reduce the buying time, eliminate "no decisions outcomes" and generate a higher profit per sale.
Don't kid yourself. More connections DO NOT equal more sales. There is a big difference between being busy and being effective, especially in today's technology-driven business world.
Recently, a client sent out 2,000 prospecting emails and received over a 100 unsubscribes and a big fat zero interest in their products. A new email that was laser-focused on the customers' pain and challenges was created. The client sent out 50 of these emails. They received 17 responses asking for more information in less than 12 hours and 5 more by day's end. In this example, the difference between doing MORE prospecting and doing prospecting RIGHT is quite apparent – the two produce very different results.
Simply put, just making more calls, sending out more emails, or getting more social media likes doesn't guarantee sales success. But a customized B2B Sales Connections Lead Generation Program can.
What Makes the B2B Sales Connections Lead Generation & Telemarketing Services Different?
Simply put, we will equip you with everything you need in one, sales producing package!
Sales leads so you can do more deals!
Analytics showing you how your leads are performing!
An experienced mentor to help you close the sale!
If you are looking for a diversified lead generation approach customized to your unique needs for a minimal, no risk investment, then B2B Sales Connections can help. In fact, ask us how you can try before you buy!
Want More Information on a B2B Sales Connections Customized Lead Generation Program?
Want more information? Not sure how the right lead generation program can help grow your business? Let's have a 15-minute chat to discuss how we can help.
There is no cost for the call, and we promise to provide you 2-3 valuable ideas that will help you immediately. Book Your Free Strategy Session Here
Or if your prefer, contact us by email here.
B2B Sales Connections – helping you sell more by fine-tuning your lead generation, shortening your selling cycles, and improving your sales skills so you close sales faster.