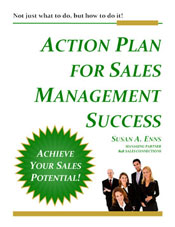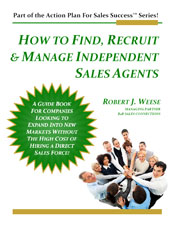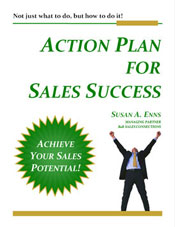 Tweets from https://twitter.com/SusanEnns/lists/b2b-sales-connections
FREE SALES &
SALES MANAGEMENT RESOURCES
B2B Sales Career Connections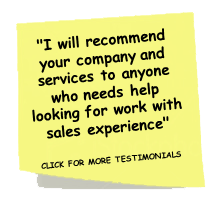 B2B Sales Connections is not just another crowded job board, filled with out of date resumes and job postings. We are the premier niche job board for B2B sales professionals in Canada.

Our only focus is business to business sales!
Career Connections is our free job search newsletter that focuses on the business to business sales career, with an emphasis on how to find the right b2b sales jobs.
It is packed with valuable information to help you with your job search, including notifications of new job ads posted on our website.
This saves you time, eliminates the need to constantly follow-up, and ensures you never miss a new employment opportunity.
A Better Way To Connect B2B Sales Professionals
This is a free job board focusing only on the business to business sales marketplace.
Are you a sales manager recruiting your sales team?
Are you an experienced business to business sales professional looking to advance your career with a better sales job?
Are you an independent sales agent looking for new products to represent?
Are you a new graduate looking to start your sales career?
B2B Sales Connections makes your job search and recruiting process faster, easier and less expensive than ever before!
Matching The Best Sales Candidates to The Best Sales Jobs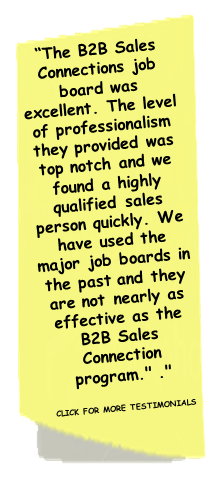 We do not accept every candidate that applies, nor do we advertise every job posting received.

Each submission is personally screened to ensure that they really are business to business sales related.

We save you time and reduce hiring and job search frustration. We constantly update every job posting to make sure they are always up to date and available.

No matter where you are located, if you are looking for a new job in business to business sales, or if you are looking to recruit B2B sales professionals, B2B Sales Connections can help you make your sales career connection!
Do you know someone who needs to hire a B2B sales professional or someone who wants to advance their sales career? Refer a friend to B2B Sales Connections!