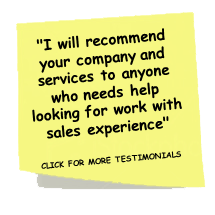 Are you looking to advance your sales career? B2B Sales Connections is not just another crowded job board filled with thousands of irrelevant job listings.  This is a free job board focusing only on the business to business marketplace.
B2B Sales Connections is simply a better way to find the right sales job to advance your career!
Sales job search tips delivered right to your inbox!
Are You In The Right Sales Job?
A career in sales can be very rewarding, however if you are in the wrong sales position, it can be hard to stay motivated. If you are not reaching your own personal goals where you are now, and more importantly you believe you will never will, it's time to make a career change.
The first step is to decide to make the change, then the next is to decide what kind of position it is that you want. Do you prefer a hunter role or an account manager role? How much salary do you require versus performance based income? Where do you want to be in five years? These are just a few of the questions you need to ask yourself to discover what type of sales position will fit you best.
You may even want to take a sales aptitude survey to tell you what type of selling would suit you best. Once you know what type of position you want, then it's just a matter of finding it and putting your best foot forward to get it.
Is it time you made a career change? Not sure how to find your dream sales job? Why not ask an expert? Subscribe to our Coaching Services  or schedule a free Career Tune Up Strategy Session with your B2B Sales Coach here.
Visit our Blog, A Sales Compass for more job search tips.