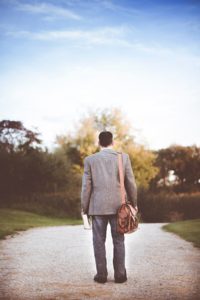 When is it time to look for a new job? There comes a time when many of us evaluate the past and look forward to a better future. For some, that means deciding whether they should make a career change and start looking for a new job.
Should you move to greener pastures with a new employer? After all when you consider how many hours we spend working, life is too short to settle in a position where you are just not happy. On the other hand, changing jobs is risky as you really don't know what you would be getting into. The devil you know is better than the devil you don't, so to speak.
Should You Start to Look For a New Job?
There are many warning signs that you should make a career change. But the only way to truly answer the question of whether it's time is it time to look for a new job is to ask yourself this.
Are achieving your goals with your current employer?
If the answer is no, and more importantly you think you never will, then yes. It's defintely time to start looking for a new job.
FREE DOWNLOAD!
How to Write an Effective B2B Sales Resume (With Template and Example)
Before you start browsing the ads on the online job boards though, ask yourself one question; do you really know what your goals are? Are you sure, because most people don't. To help you with your goals, download our Goal Setting and Action Planning Tool from the B2B Sales Connections Download Centre. It will help you define where it is you want to go, and more importantly, if you are in the right position to get there.
Once you have clearly defined your goals and you still believe that you need to make a career change to achieve them, start your career search. We have a number of job search tips on our Blog to help you get started.
Making a Change in Your Sales Career
Sales seems to be a career with high job turnover. Why? Sometimes it's because salespeople realize they are just not in the right sales job. It's not enough to just be in sales. You have to be in a sales job that is right for you!
According to the research in the book, 'How to Hire & Develop Your Next Top Performer – The Five Qualities That Make Salespeople Great':
55% of people earning a living in sales should be doing something else
20 – 25% have what it takes but should be selling something else
20% have what it takes AND are selling products best suited to their personality
A career in sales can be very rewarding. However if you think you may be in the wrong sales position, it can be hard to stay motivated. But, as the statistics above show, you are not alone. There comes a time when all of us evaluate the past and look forward to a better future.
The Bottom Line on Making A Career Change
Simply put, you shouldn't settle for anything less than the best course of action to get you where you want to go in life.
I have always said that if you are happy in your job more than 80% of the time, you're pretty good where you are. The other 20% is growth! On the other hand, as Cecil Selig once said, 'When the grass looks greener on the other side of the fence, it may be that they take better care of it there.'
Aim higher!
Susan A. Enns, B2B Sales Coach and Author
Schedule a free sales coaching strategy session with Susan here.
"… what I can tell anyone, is simply this – If you want to learn and understand sales, talk to Susan."
Are you looking to make a career change? For detailed instructions, step by step, on how to find your perfect sales job, (and by perfect, we mean perfect for YOU), check out our eBook, How to Find Your Dream Sales Job – The future is yours to create! How to write a resume to grab the attention of sales recruiters, a gender neutral cover letter template, what you need to include in your LinkedIn profile, how to prepare for a sales interview, what to wear, how to access the hidden job market, how to evaluate a job offer, how to resign from your current job …. IT'S ALL IN THIS BOOK!