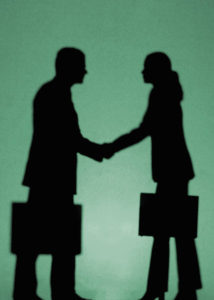 You have a great new product but you don't have the budget or management support that will be required to hire, train and manage your own sales force. Instead you decide to hire independent sales agents. After all, the product ALMOST sells itself. All you have to do is give your sales agents a price list, assign a territory and watch the orders roll in.
Independent sales people can be a great way to sell your products and it can be a fast go-to-market strategy, if you have the proper systems in place to support them. Here are seven quick reasons why you should consider independent sales agents whether it's for a new product, new territory or expansion of your existing sale process.
1) Foot in the Door Approach – Established sales agents have existing customers allowing you fast access to people who can make buying decisions in your target market or territory
2) Easy to Budget Costs. – You don't pay your agents a salary or expenses just commission.
3) Commitment to the marketplace –Most independent agents have built their business in the same area or marketplace and are in it for the long term.
4) Industry & Territory Knowledge: An agent can help you by understanding the local economy much better than you will. They can also provide valuable feedback on competition and product changes
5) Agents only make money when they are selling so you know they have to sell to survive
6) Piggy Back Effect – An experienced agent already has a relationship with your target market and when they meet one of their current customers they can introduce your product easily while discussing other lines they already sell the to the customer
7) Fast go to market strategy – By providing great sales training tools and e-learning solutions you can ramp up your sales efforts quickly. In a few days you can have the agent channel selling your products without the need to visit each location and pay hefty travel expenses
The success of your independent sales agent channel will depend on how well you prepare them for the challenges they are going to face. From your market and your company (internal challenges are always an issue). By implementing a comprehensive channel sales process you will have a stronger and more profitable selling team.
The key to remember  is sales agents are looking for companies that are easy to do business with and can create a win-win relationship.
AIM HIGHER !
Robert J. Weese
B2B Sales Coach & Author
Do you want to learn more about how to work with Independent Sales Agents to grow your business? check out my book How To Find, Recruit and Manage Independent Sales Agents. As one reader said, If you are looking for a comprehensive guidebook that can help you find, train and manage independent sales agents (ISA's), then this book is for you. I guarantee it will help you achieve your goals by giving you a step by step process for developing a successful sales agent program.
"I love the B2B Sales Connections website. It's an amazing resource for anyone involved in B2B selling."