Are you looking for ways to increase referrals and grow your business? Here are 15 proven ideas to increase referrals in 30 days.
The Power of Word of Mouth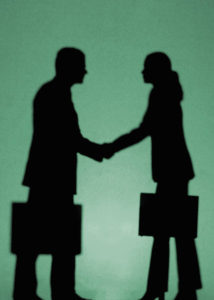 We all know about the power of word-of-mouth advertising. We love it and should always be looking for ways to increase engagement between your current clients/customers and new prospects. After all if 'they tell two friends and they tell to friends……' The great news is there are a number of sure fire ways you can increase your word of mouth advertising and it's called Referral Marketing.
What is Referral Marketing?
Now you may ask why I call it "referral marketing" and not just asking for referrals. Aren't they the same thing? My reply is no. Too many companies teach poor referral strategies and most sales representatives are not trained or comfortable asking for referrals even when it's part of their business development (sales) program. Referral marketing is a systematic program designed to help entrepreneurs, small business owners and salespeople generate more leads for their business in a very short time.
Does Referral Marketing Work?
According to Forbes, referrals are some of the most valuable leads you can get. But unfortunately, many organizations don't take advantage of them. In fact, over 80% of customers say they are prepared to give referrals but less than 11% of companies have an plan or strategy for asking their customers for referrals (Neilson 2019)
So I have compiled a list of 15 proven ideas to increase referrals that you can implement immediately. Studies have shown that most people are more likely to do business with you if they personally know someone that has had a good experience with you. We are all looking for and relying on social proof before we make decisions. The bigger the price tag the more validation we need before we make that decision.
15 Proven Ideas for Increasing Your Referrals
Ask your current customers for referrals or suggestions on who they know that would also benefit from your services.
Say thank you to the person that provided the referrals regardless of the quality of the referral and your success making the sale
Record birthdays, anniversaries and special events in your CRM and send a quick note of recognition of that special day. (if you remind them in advance you may become a hero)
Invest in people that help you grow your business by sending them a gift or thank you card
Volunteer to speak at local events that focus on your target market – give them an excellent presentation and free tips to help them. They will tell others.
Create relationships with non-competing businesses that have a similar client base to yours. For example if you are selling real-estate get to know lawyers and mortgage brokers
Become a connector. If you have a large contact Rolodex® or a large number LinkedIn connections then put it to good use. When someone says they have a problem ask them if you can suggest someone to call
Connect with other professional service providers in complementary businesses and share blogs, articles and social media content
Connect with local trade and business associations, networking groups and organizations that share a common vision. Here are some business networking tips to help you maximize your results.
Provide positive feedback on posts, articles, announcements, presentations and press releases from people you know and others you would like to know
Encourage clients to share your newsletter, articles and blogs with other professionals they know are having the same challenges.
Volunteer – Find a cause that reflects your values and concerns and become a member so you can meet more like minded people in your community
Take advantage of LinkedIn to network with other professionals in areas that you share common clients. Ask for introductions, and offer to do the same
Become a visible expert. The go-to guy, or gal for help in your industry
My Favorite Idea to Increase Referrals
15. Host a networking event. Most local bars have very slow afternoons at specific times of the month. Ask the owner/manager if you can invite 30 or 40 people to come in for a few hours of networking, eating and drinking, before their dinner service starts. Tell the attendees there's a one drink minimum. We've had over 100 people attend this type of event and it didn't cost us a cent.
If you can't get together physically, or if those you want to network with are located too far away, you could even host an online networking event using video conferencing like Zoom.
FREE DOWNLOAD!
6 Steps to Building a Powerful Lead Referral Program in 30 Days
What About the Worst Idea to Increase Referrals?
Finally, I am often asked about the worst ideas to increase referrals. Here's one. Don't hand out a bunch of business cards to clients and friends and believe they will pass them along. It won't happen. This is the worst strategy and will only make your printer money.
How Can You Learn More About Generating More Leads for Your Business?
If you would like more ideas on how to build a better referral program, check out the B2B Sales Connections Download Centre and download a free copy of – 6 Steps to Building A Powerful Lead Referral Program in 30 Days
For more information on building a successful lead generating process schedule a free 30 minute
Strategy Call with Robert.
Aim Higher!

Robert J. Weese, B2B Sales Coach
Schedule a free sales coaching strategy session with Robert here
"When you lead a struggling sales division from the brink of closing to over $7.4 million dollars in annual sales you can be confident, Robert knows how to engage customers and build sales."
Whether it's accelerating your LinkedIn networking, creating an email drip marketing campaign, making your introductory phone calls, or a combination of the above, B2B Sales Connections develops the most effective lead generation program, customized for you to grow your business.