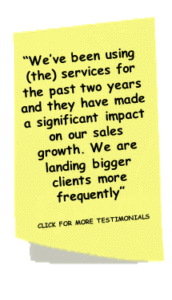 Could you be more successful if you could just find more customers?
Do you not have the time, energy or skill set to focus on new lead generation? Is social media not generating the qualified leads you need to meet your sales goals and you don't have the budget to gamble on any more unproven marketing campaigns that require huge initial investments and commitments? Are you looking to connect with qualified prospects without of the cost of hiring your own sales staff or the time it takes to find qualified independent sales agents?
Do you want to spend less time on making calls and more time on making sales?
If you answered yes to any these questions, then you need an outsourced lead generation program from B2B Sales Connections. We develop the approach, make the introductory phone calls for you and then provide you with the warm leads for follow up.
Do you want more information? Not sure how we can help grow your business? Schedule a free meeting to discuss the B2B Sales Connections Lead Generation and Telemarketing Services here. The meeting is free and there is no obligation to purchase.
Or if your prefer, contact us by email here.
B2B Sales Connections – Helping You Achieve Your Sales Potential!