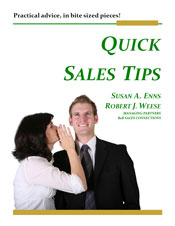 Desmond Tutu once said, "Do your little bit of good where you are; it's those little bits of good put together that overwhelm the world."
It's true isn't it? Change seldom happens in the blink of an eye. More often than not, it's all those little changes that happen along the way that, when added together, end up having the most impact.
For your health, it's "an apple a day keeps the doctor away." For your financial stability, it's "a dollar a day for the rainy day." And of course in sales, you hear "a new prospect a day keeps the sales manager away."
The same is true for your own personal development. You have to invest a little in yourself on a regular basis to truly see improvement over the long term.
"Quick Sales Tips" by Susan A. Enns and Robert J. Weese is a collection of little ideas to help you realize your sales potential!
Also Available at Amazon, Apple iStore, Kobo, Barnes & Noble, Smashwords and other fine online retailers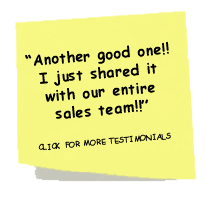 Simply put, this is practical advice, in bit sized pieces. Whether you are an entrepreneur marketing your own products and services, or a direct sales representative servicing your assigned sales territory, this book will improve your skills so you will sell more. They are in no particular order, just a random collection of over 100 tips to help you achieve your sales potential.
When we started the company, B2B Sales Connections, a number of years ago, we realized that one of the best ways to improve people's sales skills was to distribute a monthly sales newsletter filled with sales tips, techniques, and best practices. The glowing feedback we received from the readers of "AIM HIGHER" was overwhelming and our subscriber quickly grew, as it continues to do so today.
One of the most popular sections of the newsletter has always been our monthly quick sales tip, dating all the way back to our first edition. It was when one subscriber wrote us and said, "… if sales folks would follow your "sales tip of the month" every day…their life would change" we decided to put all our best tips in one place and the idea for this book was born.
"Quick Sales Tips" is based on over 50 years of successful B2B sales and sales management expertise. It is a collection of our own personal sales techniques, as well as other successful sales professionals we have been lucky enough to work with over the years. They are in no particular order, just a random collection of over 100 tips to help you achieve your sales potential. We hope you find them as influential on the success of your career as our newsletter subscribers have found them to be.
When you retire and look back on your career, you will realize it was the small improvements to your skills and techniques you made over the years that made the most difference on your overall success. After all as Alan Weiss once said, "Improve by 1 percent a day, and in just seventy days, you're twice as good."
Testimonials
"Thank you for your everyday contribution to our success!" – Cyril K.
"… if sales folks would follow your "sales tip of the month" every day…their life would change" – Brad E.
"She has helped me make more appointments, close more deals and make more money. The 3 most important concepts in sales. I would recommend any sales force hire her to help boost business sales and build trust and integrity with your clients" – James E.
"His intensity for sales, knowledge of people, and dedication to the job at hand always put him in a position of leadership" – Roland S. – ON
"Thanks a million Susan! You've helped me in a huge way. Lots of great info, much appreciated" – Nikki B.
"Susan really knows the selling world. She's honest, articulate, bright, giving, highly competent, personable and a top professional. Welcome her. It's the right thing to do." – Allan S.
"Bob's presentation was honest, relevant, engaging and humorous. To date his presentation was the most interactive and most enjoyed by our graduates and students." – Samantha K.
"You don't know how much you have helped me since I have known you and your website" – Ravi O.
"You provide great material and more importantly you give with an open heart." – Waleed H.
"I really find your advice and suggestions helpful and very positive. Keep up the good work, I'll be reading!!!!" – Tonya V.
"Another good issue full of useable sales tips and ideas. Thanks for doing this" – Brian J.
"I just wanted to drop you a line to say that I really enjoy your sales connections emails, they are helpful and also a little entertaining as to the way formulate your notes. Again, thanks and keep them coming." – Peter C.
"Another good one!! I just shared it with our entire sales team!!" – Brad E.
Quick Sales Tips – Proven Methods That Produce Measurable Results