How To Find New Customers Using LinkedIn – 5 Steps To Success
Upcoming Live Webinar & Event Schedule
Other Webinar Video Downloads
Duration: 53 Minutes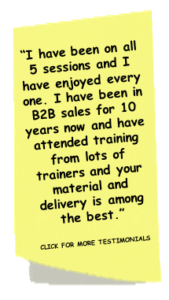 What You Will Learn: Would you like to increase your sales and your income by 10%, 20%, 30% or more this year?
Are you finding leads for your business using LinkedIn?
Have you heard about the power of LinkedIn for sales prospecting but don't know what to do?
Then you need to download this webinar by sales coach and author, Robert J. Weese.
| | | |
| --- | --- | --- |
| How To Find New Customers Using LinkedIn | Price: $10.00 | Add To Cart |
You will leave this session with action items that will impact your sales results immediately including:
How to use the FREE version of LinkedIn for connecting with new customers
How a 5 Step system will keep you on track for better lead generation
How to CONNECT and ENGAGE with your target market
How to format your profile to maximize its impact to attract prospects
How to use LinkedIn messages to connect with your ideal customer
The 7 Biggest LinkedIn mistakes you may be making
This webinar video is perfect for anyone looking to generate more leads using an effective LinkedIn strategy!
"I spend less than 30 minutes a week using LinkedIn and it has been one of the keys to finding new customers. I've been using LinkedIn for almost 10 years and over 50% of my business each year comes from the power of LinkedIn as a lead generation tool. I connect with prospects in my own backyard as well as people from around the world. LinkedIn has helped me find customers I would never have uncovered with traditional lead generation techniques." – Robert J. Weese
"Another great webinar. This is my 2nd webinar with you and I am loving them."
| | | |
| --- | --- | --- |
| How To Find New Customers Using LinkedIn | Price: $10.00 | Add To Cart |
B2B Sales Connections – Helping You Achieve Your Sales Potential!