What To Do Today To Sell More Tomorrow – Quick Sales Tips To Improve Your Results Immediately!
Upcoming Live Webinar & Event Schedule
Other Webinar Video Downloads
Duration: 42 Minutes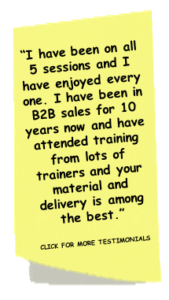 What You Will Learn: Studies show that 25 percent of sales representatives produce 90 to 95 percent of all sales. Clearly, most people who have chosen sales as their career are not selling up to their potential and therefore not making the incomes they could.
Why is this case? It's not that the job can't be done because 25 percent are doing it, and doing it well. It's because the other 75 percent either are not in the right sales position or they truly don't know how to sell.
Let's face it; If all sales people knew and did what the top 25 percent do, then all sales people would be selling more!
Download this webinar and join Susan A. Enns, author of Action Plan For Sales Success to discuss how you can improve your presentation sales skills so that you close more business!
| | | |
| --- | --- | --- |
| What To Do Today To Sell More Tomorrow | Price: $10.00 | Add To Cart |
You will leave this session with action items that will impact your sales results immediately including:
How to be in the right place at the right time; that being when your prospect is most likely to buy!
How to free up more of your time to spend on selling
How to effectively ask for testimonials so you actually receive them
What sales tools do you have to have to close more business and how to create them
"We have hired Susan numerous times to do Webinar Sales Training for both our direct and dealer sales reps, with great success. She is thorough, entertaining and enthusiastic." 
| | | |
| --- | --- | --- |
| What To Do Today To Sell More Tomorrow | Price: $10.00 | Add To Cart |
B2B Sales Connections – Helping You Achieve Your Sales Potential!