Here are 5 B2B sales statistics every sales rep and manager should know! More importantly, here is how you can use that information to improve your sales skills.
Is the World of B2B Sales Changing?
Ever wonder if the world of selling is changing? Sales strategist and best selling author, Marc Wayshak, did. So he decided to go straight to the source and surveyed 400 sales people. Some of the results are quite shocking!
5 B2B Sales Statistics You Need to Know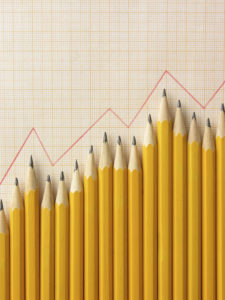 You can view the entire study results at 18 Sales Statistics You Need to Know About Right Now!, but I thought I would share what I consider the top 5 below.
At least 50% of initial prospects were not a good fit for what the sales people were selling. In other words, half of their time spent prospecting was wasted.
Two thirds of sales people reached out to only 250 leads or less per year. That equates to only about one per day!
Nearly 60% of respondents reported asking for fewer that one referral per month, with 40% reporting they rarely ask.
Less than a quarter of sales people exceeded their quota last year. Is it any wonder given statistics 1 through 3?
Nearly half of respondents said that the phone is their most effective sales tool.
Better Sales Lead Generation and Prospecting Techniques
Now that you know the facts with these b2b sales statistics, the question is how do you learn from them?
FREE DOWNLOAD!
Sample Fact Find Questions to Win More Sales Faster
When I look at those 5 statistics again, I ask myself, is it that the field of sales is actually changing, or is it that sales people just aren't prospecting enough. After all, as Jim Rohn once said, 'To succeed in sales, simply talk to lots of people every day. And here's what's exciting – there are lots of people!"
Aim Higher!
Susan A. Enns, B2B Sales Coach and Author
Schedule a free sales coaching strategy session with Susan here.
"… what I can tell anyone, is simply this – If you want to learn and understand sales, talk to Susan."
Do you have a question about sales? You're not alone.  Most salespeople have questions like this on how they can sell more. For the right answers, check out my book, Ask the Sales Coach-Practical Answers to the Questions Sales People Ask Most.