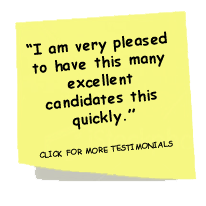 If you are looking to recruit and hire sales representatives, independent sales agents, sales managers or seasoned top sales executives, we can help!
B2B Sales Connections sales recruiting services include:
Ideal Candidate Profiling
In Depth Candidate Screening including Sales Aptitude and Skills Testing, Interviewing & Reference Checking
New Hire On Boarding Process Design
Compensation Plan and Sales Incentive Program Design
Want more information? Contact us today!
A Better Sales Recruiting Process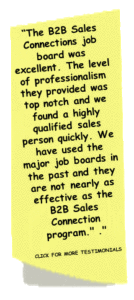 A study published by Profit Magazine reported that finding the right sales talent was one of the biggest concerns facing sales organizations. In fact, many would agree this is the number one staffing challenge facing corporations today.
However, a successful sales recruiting program is more than just placing an ad and pouring over hundreds of resumes! First you must attract the right sales talent to apply, and then you must assess that they are the right fit for your organization.
Studies show hiring the wrong sales person will cost an organization between 3 and 5 times their annual compensation plan in lost revenue, management time, training costs, customer goodwill and expenses.  You simply can't afford to make a hiring mistake!
B2B Sales Connections can make your recruiting and hiring process quicker, easier and less expensive than ever before.
Attracting the right candidates is one thing, hiring and keeping them is quite another!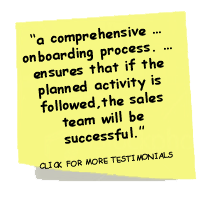 You must put your new sales hire on the right path to success from the time they walk in the door with a clearly defined On Boarding Process. Compensation and sales incentive programs must also align with both corporate and sales people objectives to foster a long term, win-win relationship. Otherwise, you will be starting the whole recruiting process over again in a very short period time!
B2B Sales Connections is a team of experienced, successful sales executives who have developed a unique way to overcome the obstacles of attracting and hiring qualified business to business sales people, and we would welcome the opportunity to share some ideas with you.
B2B Sales Connections truly is the cost effective sales recruiting alternative to over crowded job boards, time consuming in house prescreening, and expensive recruiting agencies.
Sales management and recruiting tips delivered right to your inbox!