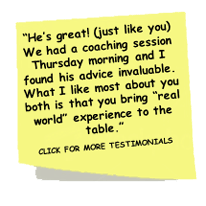 In order for sales and career coaching to be effective, it must be timely, affordable, and most importantly, it must be accessible. After all, when a big deal is on the line, or you have an interview for your dream job, can you really afford to wait?
The Coaching Services from B2B Sales Connections gives you access to qualified sales expert whenever you need one. In addition to your scheduled One on One Coaching sessions, if you ever have a question, simply contact us by phone, online video conference or email. Get the guidance you need, and then get on with the rest of your day!
The B2B Sales Connections Coaching Services includes:
Scheduled One on One Coaching sessions personalized to your needs
Unlimited access to a qualified B2B sales and career expert via telephone and email for the duration of your subscription; hourly, monthly or yearly options available. Contact your coach as often as you like; every day if you choose.
Online video conferencing with Skype, a free online video conferencing service available at www.skype.com
A recent testimonial from one of our associates stated, "She has helped me train many of my business associates in the art of effective sales techniques and client relationship management. I highly recommend Susan and her partner at B2B Sales Connections."
We can help you succeed too, but the next step is up to you. You just need to make the decision to get started. After all, your future starts today!
Want more information? Not sure if sales coaching is right for you? Want to chat with your coach to see how we can help? Schedule a free coaching strategy session with your B2B Sales Coach here. The meeting is free and there is no obligation to purchase.
Or if your prefer, contact us by email here.
B2B Sales Connections – Helping You Achieve Your Sales Potential!