Our personalized One on One Coaching Services are provided by our Managing Partners Susan A. Enns and Robert J. Weese; a team that has an outstanding record of success in over 60 years of combined direct sales, management and executive level business to business experience.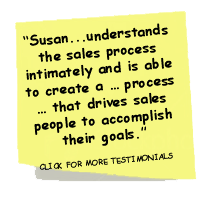 Susan has a proven track record of success with almost 30 years of direct sales, management and executive level business to business experience. Her accomplishments include consecutively being the top sales rep in Canada, managing the top sales branch, and achieving outstanding sales growth in a national channel sales organization. Her work has been published in several locations numerous times and her books have sold on five separate continents. Susan's Full Profile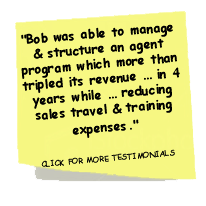 Robert specializes in helping businesses create and execute the right sales channel management strategy to maximize success. In addition to consulting on how to build direct sales teams, he has also helped numerous companies develop a network of Canadian sales agents through the implementation of their recruiting and training programs. He has over 30 years of sales & executive sales management experience. Robert's Full Profile
Both Susan and Robert understand the day to day challenges and the rewarding opportunities of business to business sales. They understand them because they have lived them! More importantly they have a knowledge on how to identify and achieve them!
Want more information? Not sure if sales coaching is right for you? Want to chat with your coach to see how we can help? Schedule a free coaching strategy session with your B2B Sales Coach here. The meeting is free and there is no obligation to purchase.
Or if your prefer, contact us by email here.
B2B Sales Connections – Helping You Achieve Your Sales Potential!