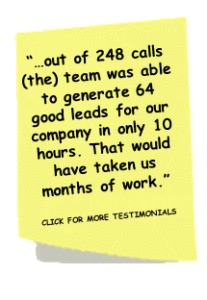 This is a myth being perpetuated by social media spokespeople and online advertisers that are trying to convince you to spend your money on their marketing platforms. In fact targeted calling is still one of the most effective ways to quickly connect and pre-qualify targeted prospects. We can clearly show you a return on investment for this program; can they say the same for online advertising?
The term cold calling may be dead, but the need for it isn't.
Do you want more information? Not sure how we can help grow your business? Schedule a free meeting to discuss the B2B Sales Connections Lead Generation and Telemarketing Program here. The meeting is free and there is no obligation to purchase.
Or if your prefer, contact us by email here.
B2B Sales Connections – Helping You Achieve Your Sales Potential!