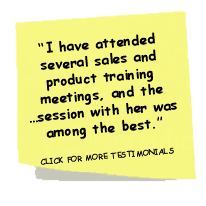 All B2B Sales Connections Training Programs are available as either eBooks, a downloadable series of self study modules, online interactive webinars, or onsite facilitator led workshops.
Sales and management training course options to learn at your own pace and to fit any budget.
Throughout your training, you have free access to a qualified B2B sales trainer by email, online video conferencing via Skype, and telephone.
Do our training methods work? Absolutely! We guarantee it!
Sales people are not born, they are trained like any other profession. Unlock your sales potential. Your future starts right now!
Want more information? Not sure what training program course option is right for you and your organization? Want to chat with a b2b sales expert to see how the right program can help? Schedule a free strategy session with your B2B Sales Coach here. The meeting is free and there is no obligation to purchase.
Or if your prefer, contact us by email here.
Action Based Sales Training – Proven Methods That Produce Measurable Results