There are many reasons why customers leave. Most people think it's because of a specific experience where customer service went horribly wrong. In reality though, most customers leave when they simply don't feel valued or appreciated. In other words, it's because they think you don't care!
Why Customers Leave – An Example
I ran out of my communication record forms the other day and had to reorder more from the supplier. I have been using them for over 15 years and still find it a great method of tracking conversations and follow-ups that will be entered into my electronic CRM.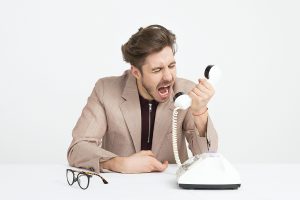 The problem occurred when I tried to reorder the product using the company's e-store. I attempted to set up an account and the trouble started. The site kept giving me an error message but couldn't tell me what data was wrong. I checked the entry numerous times and couldn't find any errors. I gave up on the website and called the toll free number which stated; 'Canada Wide Sales'.
Customer Service Reps Are Your First Line of Retention
When I reached the customer service person I was told this was not the right number and given a different number to call. They made no attempt to forward or connect me to the right number. Just, "call here and goodbye".
So I called the new number and told the customer service person about the problem with the website and the published number. In a very condescending voice I was told that I should have called this company in the first place and not the main published number. This was impossible since I didn't even know this distributor existed. They didn't appear when I searched online for the product by name.
The rep went on to suggest I should go directly to their website and order the product online instead of ordering over the telephone. They didn't give me a reason to order online. There was no added benefit or savings. It was just "here's our website".
The Main Reason Why Customers Leave
Three strikes you're out. I decided I had had enough of this company which I had used for over 15 years. I am now waiting on a shipment of new forms from their competitor. They actually provided great customer service and a bonus for switching suppliers.
It reminded me of a study I read once. It said that the main and most important reason customers leave the vast majority of customers leave and switch to a new supplier is because of 'perceived indifference'. Lets face it. My former supplier didn't care for my order or my opinion. So I voted with my dollars and switched companies.
How to Improve Customer Retention
When you think about it, all my now former forms supplier had to do was send me an email once in a while and say, "Are you almost out of your communication record forms? Order here today so you don't run out at the last minute."
If the main reason why customers leave is that they think you don't care, then show them that you do. Listen to them and help them when they contact you.
And if they don't contact you, then you should reach out to them. Stay in touch with them. With today's advanced Customer Relationship Managment programs or CRM for short, there are simply no excuses to not stay in touch with your customers.
FREE DOWNLOAD!
How to Design a CRM System
Not only will they become more loyal to you and your company, they will buy more from you and shower you with referrals as well. After all, as the old saying goes, take care of your customer or someone else will.
FREE DOWNLOAD!
6 Steps to Building a Powerful Lead Referral Program in 30 Days
Aim Higher!

Robert J. Weese, B2B Sales Coach
Schedule a free sales coaching strategy session with Robert here
"When you lead a struggling sales division from the brink of closing to over $7.4 million dollars in annual sales you can be confident, Robert knows how to engage customers and build sales."