Wondering how to conduct a productive sales call on the phone? Here are some tips to help.
Do we Really Need to Know How to Sell on the Phone?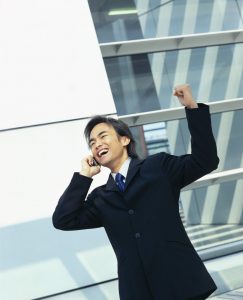 As a sales coach, I am often asked about why sales calls on the phone are necessary. I usually answer that question more questions:
Is your prospect just too far away to meet face to face?
How big is your travel budget?
Has the COVID-19 pandemic made in person meetings next to impossible?
If you answered yes to any of these questions, then you know why you need to know how to conduct productive sales calls on the phone.
The Keys to Productive Phone Sales Calls
The biggest key to phone selling effectively is to schedule the phone appointment at a predetermined date and time. Don't expect your prospects to be able to give you their full attention if you just happen to call them out of the blue.
Once you've scheduled a phone appointment, the next key is to do everything you can to ensure your prospect shows up. To drastically reduce the number of no shows and cancellations, check out 5 steps to eliminate missed phone appointments.
Next, you need to be prepare for the call. You should do this in much the same was as you would for a face to face meeting. Always ask yourself, what is the purpose of your call today? What is it that you want to accomplish? How will you know it was a successful sales call when you hang up the phone? If you don't know what you are calling your prospect, there is no point in picking up the phone in the first place.
Always remember, if you plan properly, phone appointments can be extremely productive in moving the sale forward, not to mention the time and money you saved not having to travel.
Salespeople Have To Keep Your Phone Appointments!
How to do productive sales call on phone starts with you keeping your phone appointments! Sounds pretty obvious, doesn't it? One would think however here is an example that happened to me last week.
A consultant emailed me to schedule a phone appointment to talk about how his services could help my company. It went back and forth a few times and we settled on a date and time. When the appointment time rolled around, he never called! Keep in mind, he emailed me to set the appointment, not the other way around.
I didn't hear from him until the next day when he called to apologize because he got busy on other things and had to miss our call. I had booked the time and arranged my schedule around the appointment, however he obviously didn't see the need. For me, he would be hard pressed to sell me anything now as I simply cannot trust him.
Missed Appointments Are More Common Than You Think!
Unfortunately, this is not the exception to the rule. I see 'professionals' do this all the time. Not that long ago, it happened to me four times in one week, and in some cases, these were from people who claim to make a living as sales trainers! In speaking with other business associates, it is happening to them on a regular basis as well. It is especially frustrating when we have taken the time to email back and forth to pick a date and time, and then the sales representative doesn't follow through.
A Phone Appointment Can Only Be Effective if You Show Up!
Standing up a prospect for a phone appointment is a sure fire way how salespeople lose all credibility and trust. They immediately think, 'If this is the poor customer service you show me when you are trying to win me as a customer, I can only imagine how bad it will get when you get me as a customer.' What some sales people fail to realize is that when they do these things, they have lost the sale before they even have a proposal on the table!
Most sales people would not dream of standing up a prospect for a live meeting, but do it all the time on scheduled phone appointments. I think both is unacceptable behavior for sales professionals. Remember, as Benjamin Franklin once said, 'He that is good for making excuses is seldom good for anything else.'
FREE DOWNLOAD!
How Sales Reps Should Organize Their Time (With Template and Example)
What To Do After the Phone Sales Call
After any sales call, it's important to follow up. It's probably even more important after a phone sales call. In fact, the follow up you do after you hang up is probably the most important step in how to a productive sales call on the phone.
If you need to send the prospect further information, email a PDF version of your slide presentation or your written proposal. Just be sure you follow up to make sure your prospect received your email and your sales process will continue to move forward.
Be creative! If your product requires a demonstration, pull out your smart phone and record a video. Or even better, before you hang up from the call, book a video conference to do the demo live. With today's free video conferencing, screen sharing and webinar options like those discussed in our post on the best apps for sales people, there is nothing you can't show your prospect in person that you can't show him remotely.
Productive Phone Sales Calls – The Bottom Line
Yes, you really can sell your product remotely. In fact, if you and your prospect agree each step of the sales process, and if you, as the sales rep, control the time frame of your sale properly, you can actually sell more than you did when you were selling face to face.
Want more phone selling tips? Check out, 5 Tips on How to Sell Over the Phone (and Mistakes to Avoid) on Sales Hacker.
Remember as the Sales Wizard, Brian Jeffrey once said, "We can't manage time, but we can manage ourselves. So time management is self management." More motivational quotes here.
Aim Higher!
Susan A. Enns, B2B Sales Coach and Author
Schedule a free sales coaching strategy session with Susan here.
"… what I can tell anyone, is simply this – If you want to learn and understand sales, talk to Susan."
Do you have a question about sales? You're not alone.  Most salespeople have questions like this on how they can sell more. For the right answers, check out my book, Ask the Sales Coach-Practical Answers to the Questions Sales People Ask Most.