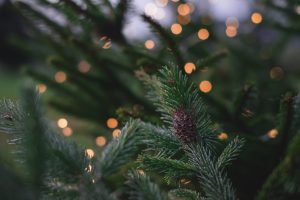 When you look at the calendar, there are really only a few selling days left in the year. That's why many are asking, "what are the best sales activities salespeople should concentrate on in December?"
Right now you probably hurrying around, doing whatever it takes to close every sale possible before year end so you can make quota and earn your annual bonus.
However you are also probably waiting until after the holidays to prospect for new business since most companies don't want to start new projects at this time of the year. This 'hurry up and wait' mode can be very stressful, as you struggle with how to stay busy.
The Best Sales Activities for December
No matter how we wish it wasn't so, new business slows down during the holiday season. Even still, there are plenty of productive activities sales people can do to keep busy at this time of the year.
Build Your Sales Funnel for the New Year
Contrary to popular belief, December is an excellent time to build your prospect list and sales funnel.
Make it a point to call at least 2 customers every day between now and the end of the year. Give them holiday greetings and ensure that everything is running smoothly. Even if your contacts are not available, always leave a business card or a voice mail so they know you were there. You may not connect with them, but the fact that you took the time to call can build loyalty.
If you do manage to see your contact, ask for a reference letter. Or a more informal approach is to ask 'Can I quote you?' when they give you positive feedback. These off the cuff comments make great testimonial quotes to help you win new customers in the New Year.
Also, be prepared to ask for referrals while you are there. Once approach that works well is 'You are welcome, Mr. Customer. My business is built on referrals and one of the best ways to thank me is to refer me to your business associates.' These are great prospects to call in the New Year.
Improve Your Product Knowledge
Take some time to brush up on your product knowledge. Why not read a brochure or an operator manual? Maybe you could practice product demonstrations with your colleagues. You could also contact your suppliers to see if they have any materials to help improve your knowledge.
Whatever the source, when you learn a new feature about your product, always take the time to determine what's in it for your customers. After all, specifications don't sell products, benefits do!
The Best Sales Activity for December, Improve Your Sales Knowledge!
One of the best sales activities you can do in December is invest in yourself. Even if you have been selling for a long time, you can always upgrade your sales skills. Regardless of your years of experience, if you are not reaching your sales goals, then investing in yourself is the right move, no matter what the time of year.
And please don't wait for your employer to provide training. They are only responsible to pay you for the work you do. You and you alone are responsible for your own personal development. You don't wait for a prospect to call you before you make a sale do you? Then why wait to improve yourself.
When you have some extra time this December, how about read some sales blogs from industry experts? There is so much excellent free sales training available on the internet, there really is no excuse not to continuously improve and hone your skills.
You could also check out our webinar videos for sales and sales management to brush up on your techniques. They are available for instant download and viewing and you can watch them whenever you find it convenient. Sounds like the perfect thing to do when you are waiting to hear from that prospect who said they were going to send you the contract later today.
Lastly, did you know that business people who read earn twice as much than people who don't? If you just read 10 minutes every day during the holiday season, you would read enough to drastically up your sales game. Remember, as Alan Weiss once said, "Improve by 1 percent a day, and in just seventy days, you're twice as good."
For some great reads on sales and sales management, check out our Recommending Reading List. Pick out a book today, and start investing in yourself.
Are You Really Too Experienced to Invest In Yourself?
A few years back, I was lucky enough to a be keynote speaker at a Sales Professionals of Ottawa Networking Breakfast. When I looked around room, I realized the level of sales and sales management experience in the room was incredible. There literally were some of the most successful and well respected sales professionals from the area in attendance. Some of whom had been selling for well over 30 years!
I happened to look over at a very experienced sales professional whom I greatly respect. As I watched him taking notes, I was reminded of a very important lesson. You are never too old or too experienced to learn something new. In fact, I think that's probably the reason why he's one of the most successful and highly respected sales professionals in the first place.
Set Your Sales Goals for Next Year
Don't forget, the new sales year is just around the corner. Be sure to start thinking about your plans for next year and set some goals. You can download our Goal Setting and Action Planning Worksheet for free from the B2B Sales Connections Free Download Centre to get you started.
Think back to that one idea that you have always wanted to do. You know, that one you never seemed to have the time to do. What is that one thing you thought would really impact your sales results? Well, now is a great time to do it! Remember, the only difference between a good idea and a great idea is implementation!
FREE DOWNLOAD!
Goal Setting and Action Planning Tool
After all that reflection, you may decide that one of your goals for next year includes making a career change. For detailed instructions, step by step, on how to find your perfect sales job, (and by perfect, we mean perfect for YOU), check out our eBook, How to Find Your Dream Sales Job – The future is yours to create!
For more ideas on how to stay productive at this time of year, check out these sales tips for December from Eagle Staffing.
From everyone here at B2B Sales Connections, we hope you and your family have a very happy and healthy holiday season!
Aim higher!
Susan A. Enns, B2B Sales Coach and Author
Schedule a free sales coaching strategy session with Susan here.
"… what I can tell anyone, is simply this – If you want to learn and understand sales, talk to Susan."
Do you have a question about sales? You're not alone.  Most salespeople have questions like this on how they can sell more. For the right answers, check out my book, Ask the Sales Coach-Practical Answers to the Questions Sales People Ask Most.