What is the best time of day to cold call? Salespeople and their managers have been struggling with this question for years. Well, here is what several research studys show to be the best time for salespeople to cold call.
When Should You Cold Call According to The Kellogg School of Management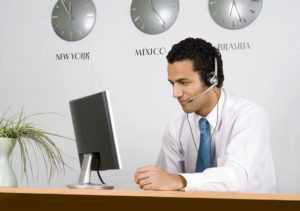 Turns out that Dr James Oldroyd with the Kellogg School of Management asked that question too.  In 2007, he surveyed 495 companies across 40 different industries in an attempt to determine the optimum time to cold call. The results are quite interesting.
The best time to call is between 8 am and 9 am
The second-best time to call is between 4 pm and 5 pm
The very best day to cold call is Thursday
The worst time to call is between 1 pm and 2 pm
The very worst day to cold call is Friday
More Research Findings on Cold Calling
Studies on when it's best to cold call reported on by Hubspot showed similar, yet conflicting findings:
The best time of day to cold call is between 4 pm and 5 pm
The second best time to cold call is mid morning, from 10 am to 11 am
The best days to cold call are Wednesday and Thursday
The worst time to cold call is early in the morning, between 7 and 10 am.
The worst day to cold call is Friday
I find this last point in all the research particularly interesting as Fridays were always one of my best days to work the phones.  Maybe that's because I was one of the very few sales reps working on a Friday afternoon, or maybe I was just in the right frame of mind to be cold calling on that day. I am not sure which.
What Does a B2B Sales Coach Say
So how as a sales coach do I answer this question? Simple. The best time of day to cold call is the time you believe you will be the most successful, when you feel you are at your best. In other words, if you believe you can be effective, you will be.
The bottom line is there may not be one best time to cold call for everyone, but there probably is a best time for you. If you really want to know when and when not to prospect, track your results. And when in doubt, don't over analyze, just pick up the phone and dial!
Remember as Nike once said, "Just do it!"
Aim Higher!
Susan A. Enns, B2B Sales Coach and Author
Schedule a free sales coaching strategy session with Susan here.
"… what I can tell anyone, is simply this – If you want to learn and understand sales, talk to Susan."
Looking for more prospecting and lead generation techniques that will open more doors so you can close more sales?  The download our free eBook, Attract New B2B Customers Fast and Effectively Using Outbound Lead Generation from the B2B Sales Connections Free Download Centre.
Whether it's accelerating your LinkedIn networking, creating an email drip marketing campaign, making your introductory phone calls, or a combination of the above, B2B Sales Connections develops the most effective lead generation program, customized for you to grow your business.