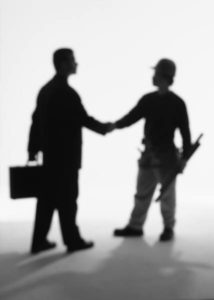 You should be prepared for any or all of these questions from sales agents when you approach them for the first time. If you have never dealt with agents before and they are experienced then they will most likely have more questions for you than you will have for them. Preparation is the key. The more you know about what they may ask the better off you will be. By reviewing these questions you can prepare the information that may be necessary.
In my interview with Craig Lindsay, President of Pacesetter Sales Associates, he mentioned a couple of key points that are worth repeating here. Agents cannot provide a "magic wand" if your company is in trouble and sees this channel as a quick fix for poor growth. Working with agents requires a long term commitment in order to be successful. A company must do their homework and understand both their market and the agent's business model. Craig has 16 questions that he uses to determine whether his agency is going to proceed with new product or manufacturer. He rates the answers on a scale of 1 to 10 and if the company does not get a good grade they will decline the opportunity.
As an example, he will give a company a score of 10 if they currently use sales agents and a 1 or zero if he feels they are just experimenting with an agent channel. By rating the companies it saves him time and ensures everyone at Pacesetters follows the same procedures when they are evaluating potential partners.
If the good, experienced agent doesn't see a plan and structure in place they usually choose to pass on the program. If they aren't concerned then they may be inexperienced and not a good fit in the first place. As one agent said during an interview, "if you don't have a documented program in place then you'd better have a 'cure for cancer' otherwise I am going to walk." As Michael Greber author of the E-Myth Revisited states, "in order for a business to work it must become a system so it works exactly the same way, every time, down to the last detail."
Show the agents you have a structure and system in place and you will be way ahead of other companies that are dabbling in the alternate channel program and just can't understand why agents are not interested in their products or services.
If you would like more detailed information about establishing your own channel of sales agents then order a copy of: How To Find Recruit and Manage Independent Sales Agents
The book is a comprehensive guide on how to select, manage and motivate sales agents. It provides proven exercises, forms, and templates to equip interested sales managers with the necessary tools to run their own successful sales agent program. As Brian Tracy, author of Ultimate Sales Success stated, "This fast-moving, practical book, based on years of experience, shows you how to leverage and multiply the sales potential of your products and services, selling five and ten times as much as you ever thought possible."
To Your Success!
Robert J. Weese, Sales Coach & Author
B2B Sales Connections
Download the Webinar Video, How to Find & Recruit Commission Only Sales Agents in 30 Days. It's available for instant download and viewing. Watch it as often as you like, whenever you find it convenient, and pause it anywhere to learn at your pace!