Thinking of hiring a sales coach? Here's how one b2b sales rep improved his sales game after working with a sales coach, as told in his own words.
Written & published courtesy of James Ellul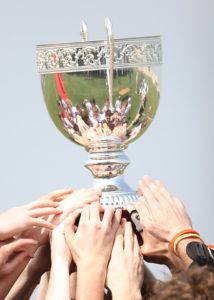 This past year I have to come to learn some things to help me in my sales career. For those of you that don't know, I sell office equipment. Copiers, printers, faxes, shredders, presentation boards, plotters, scanners and many other items. Typically business to business but the odd direct to consumer items are sold.
Since about November 2011 my office had the sales team work with a "Sales Coach". When they informed us this would be happening I was elated. I'm very happy to continually upgrade my skills which in turn, hopefully, would allow me to achieve a higher income. Bottom line, that's what most of us work for.
The Sales Coach Who Improved My Sales Game
So here's how I improved my sales game with a sales coach?
We started working with Susan Enns of B2B Sales Connections. She managed to work with us from Ottawa over the phone on a weekly basis during our sales meetings and she would do one-on-one calls with us as well. She provided great sales progress charting tools that I still use close to a year later and will continue to use.
We started with goals planning. I have never really been into goals planning. My thought was make as much money as you can every day you can make it. She showed us a formula as to what I had to do to reach a certain income level. How many calls I had to make each week, how many clients I needed to see each week, how many sales I needed to make, etc? There is a formula for how many calls to get an appointment, how many appointments to get a sale, etc. You should have a look at their website as highlighted above for that chart. It really does help you visualize how you will get to where you want to go.
We also went thru many different sales situations and how to ask the right questions, how to present properly, how to fact find and many other aspects that pertain to our specific industry.
To Improve, You Need A Sales Coach With Experience
Susan has experienced great success over her career, and yes she has experienced the highs and lows too. As with many sales people, ups and downs are what either make you or break you. Susan works with sales staff to minimize the down times and increase the up times. Working with her has certainly helped me increase my sales dramatically. I win more deals based on my professionalism, attention to detail and value proposition rather than lose to price, or nickel and diming.
The one big hurdle she helped me overcome was the price issue. There is always someone with a cheaper product than you, but what value does it offer? This is a question I bring to all my first appointment meetings.
With the office equipment industry being literally ripped apart and cheapened by small companies that will give their product away today and be gone tomorrow, the challenge for people like me, who plan for longevity in the industry, is how to sell around those "pirates". Susan helped give me the tools to do just that.
How A Sales Coach Improved My Sales Results
Now I want you to understand I am not trying to sell you on Susan's company here. I wanted to share something that helped me double and almost triple my sales this year, and the year isn't over yet! With that it has brought much better income. I found her to be "real world" rooted. Easy to talk to and very attentive.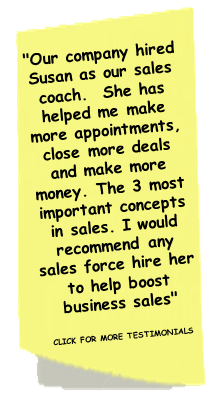 For those of you who have never experienced someone like Susan, you really should at least have a look at her website. She has written a few books about the subject of which I had purchased her latest one.  Action Plan For Sales Success was basically everything we did with Susan over the phone. It helped reinforce ideas and discussions we had and offer suggestions as to how to implement them.
This book really helped me remember what we talked about and just really helped make those discussions more a part of how I do things in my business. Susan made sure to instill that honesty and integrity should be the foundations of how you function from day to day in this business. Something I truly believe in.
I work from home now, and have been for the past year now. Since I don't need to be there, I would probably see the head office about once or twice every 2 weeks. I am self-motivated and I now have to the tools to help me visualize my direction.
ABL – Always Be Learning
The old sales ideas of "The ABC's of selling (Always Be Closing)" really should be the ABL's of selling, Always Be Learning. Many sales people, in this industry especially, are seasoned vets. The issue is, most of these veterans stopped really learning years ago. They have not adapted to today's way of selling. For example, this past year especially for me, I have won most of my deals (about 60% rough ratio) by email or sending my quotes and brochures electronically. I do like to make the first contact or "fact find" in person, however, but after that, most of the deals close "electronically".
I find most people want the info fast, even though they may not act on it quickly. If I respond to emails quickly or forward info that they are requesting electronically, my clients feel I am attentive and extremely responsive. This gives them the comfort that I am there when they need me. The sales game has changed dramatically over the last 5 years. Many of these veterans are still using the older "hard sell" tactics or just slashing prices to win deals. This hurts our industry and our reputations. I don't pressure clients. I give them the information they require to make an informed decision. This includes equipment comparisons, evaluations, etc. Give them the info they didn't know they needed. That helps me minimize the amount of times I hear "I'll get back to you once I have had a chance to shop around."
Don't Fall Into the "Salesman" Trap
Working with Susan has helped me stick to my way of selling and not fall into the "salesman" trap.
I started out in IT and Service Management for over 17 years. I thought all sales people were crooks. Then I was asked to move into sales. That scared the hell out of me. Would I become one of those crooks? No! I have worked with sales trainers before and I do take aspects of each training and use them daily. I just found, and again this is only my opinion, that with Susan, more information seemed to stick. This has been my best sales year out of the last five! And a dramatic improvement as well. As I said earlier I have doubled and almost tripled my sales this year.
For those of you who are, like me, interested in learning and growing to achieve a better income and avoid "down" times, contact Susan for a brief chat to see how she can help you. Click her site link back at the top of my blog and also check out all the free tools they have listed there.
Comments welcome.
Thank you once again for reading.
James Ellul
How B2B Sales Connections Can Help You Up Your Sales Game
Want more information? Not sure if sales coaching is right for you? Want to chat with your coach to see how we can help? Let's have a 15-minute chat to discuss how we can help. There is no cost for the call, and we promise to provide you 2-3 valuable ideas that will help you immediately. Book Your Free Strategy Session Here